How to get to Havasu Falls:
Reservations, Permits, and Tips
Perhaps the most famous waterfalls in the American Southwest lie within the Havasupai Native American Reservation at the bottom of Grand Canyon in Arizona. The turquoise waters surrounded by towering canyons is well worth the 10-mile hike, as well as the potential harbinger of procuring the coveted camping permits. The Havasupai Tribe manages the land and there are multiple checkpoints once hikers arrive at Supai Village. Many think it's part of the Grand Canyon, but it's actually a side canyon called Havasu Canyon and is outside of the National Park.
HOW TO GET A HAVASUPAI RESERVATIONS / PERMITS
This is the hard part. The tribe start taking reservations at the beginning of February.  You must make your reservations online at HavasupaiReservations.com. Sounds simple enough, but permits can sell out for the year in just a few minutes! Pro Tip: You must get a 4 day/3 night reservation for this trip.  You can reserve for a bigger group and adjust your numbers before hiking in. There is no penalty for this as long as you let them know beforehand, but don't wait until the last minute because you might not be able to get them on the phone.
Campground Phone #: (928) 448-2180, (928) 448-2121, (928) 448-2141, (928) 448-2237
Lodge Phone #: (928) 448-2111
You may call or ask us for more information about this process.
FEES
The cost for Havasu Falls permits are as follows: $100/person/night (weekdays), and $125/person/night on the weekends
OTHER COSTS IF YOU'RE NOT BACKPACKING / CAMPING
Havasupai Lodge: $145 for up to four people (plus 10% tax)
Helicopter Transport: $85 each way (first come, first serve)
Horses: $75-150 (plus 10% tax)
THE HIKE TO SUPAI VILLAGE + CAMPGROUNDS (10 Miles Total)
The trail into Supai begins at Hualapai Hilltop, where there is plenty of parking for regular vehicles (and very limited for RVs if it's busy).
From Hualapai Hilltop, there is a quick 2 mile descent into the canyon. You will go down switchbacks, and hiking poles will come in handy.
The next 6 miles to Supai Village is relatively flat or very slow descent (which means getting out is mostly uphill).
After arriving in Supai, it is another 2 miles to the campground where you continue to descend into the canyon.
HAVASUPAI CAMPGROUNDS
The Havasu campground serves up to 250 people. Reservations can only be made by phone at 928.448.2121, but the sites are first come first serve. It took us over an hour to find a site big enough for our 13 person group. There is also drinking water available and primitive toilets. Pro-tip: Bring your own toilet paper, because sometimes they run out. A hammock and water shoes for Havasupai are also essentials!
THE FIVE WATERFALLS OF HAVASU CREEK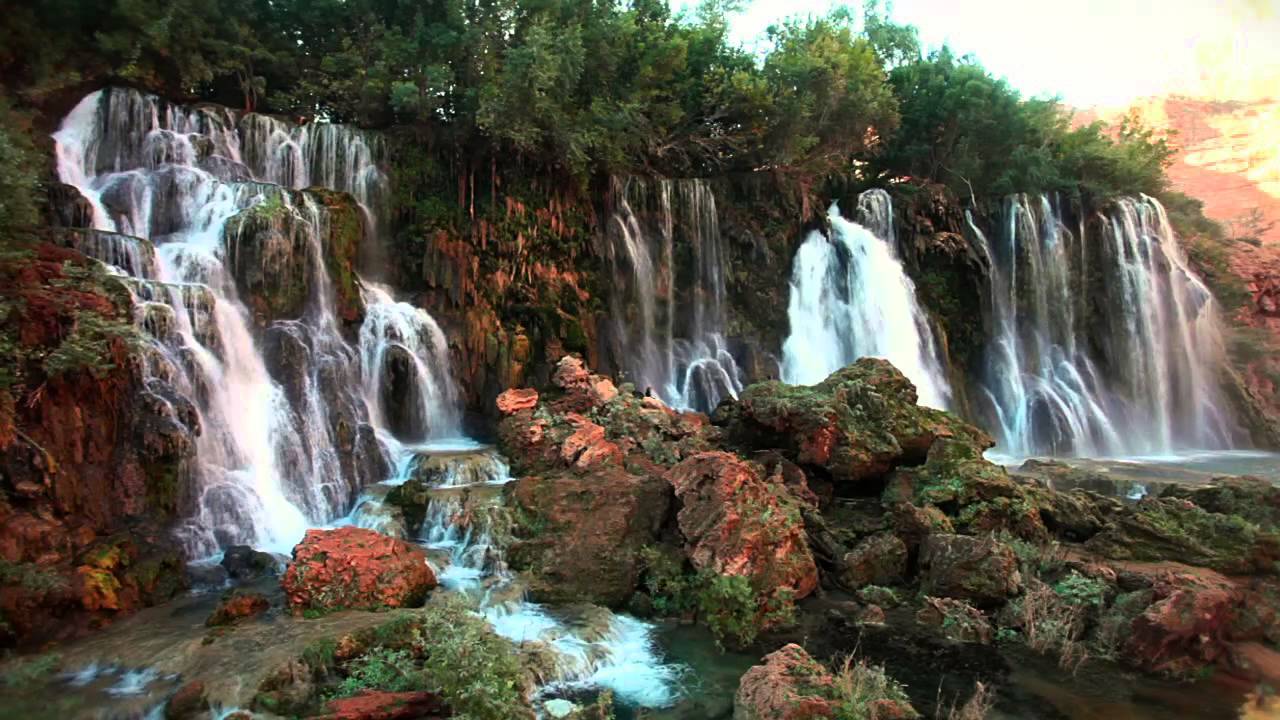 Little Navajo Falls / New Navajo Falls / Upper Navajo Falls: the first set of falls you will see on the way to the campground from Supai. This one is a little confusing. Due to recent floods in 2008, the 70 ft Navajo Falls was destroyed and multiple falls have been created. Some people refer to them as Upper and Lower Navajo Falls, but the only one notated by a sign there refers to them as Little Navajo Falls. Either way, they are beautiful and worth exploring.
Lower Navajo Falls / Rock Falls:
Lower Navajo Falls – First of the Waterfalls You will encounter in Havasu Canyon
Havasu Falls: 0.5 miles away from the campgrounds. It drops over 100 feet into a beautiful pool. You will pass these falls when you're hiking in from Supai Village to the campgrounds.
Havasu Falls – It is the most famous waterfall located in the Havasupai Indian Reservation. It's 1.5 miles from Supai Village and is 90 -100 ft tall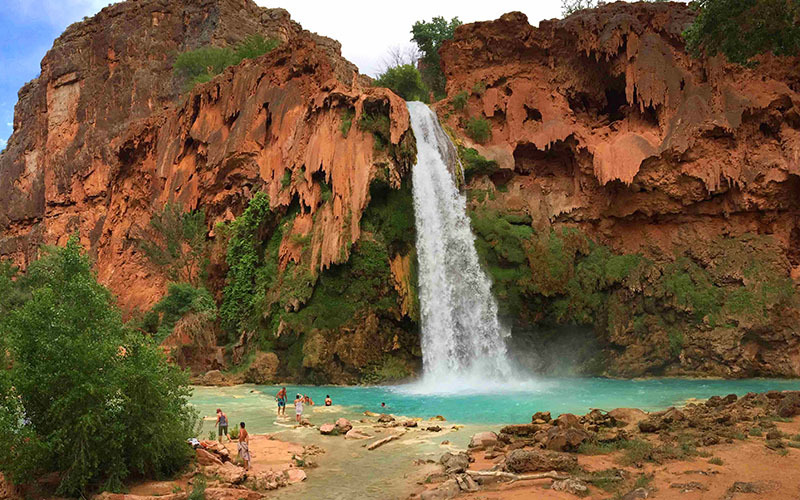 Mooney Falls: This is the largest of the Havasupai waterfalls, it's only 0.5 miles after you pass the campgrounds but you have to descend through two tunnels, chains, and ladders. The lines can get long and it took us over an hour to get down. (Watch out for centipedes! :P)
Mooney Falls – The tallest waterfall in Havasu Canyon at 210 ft tall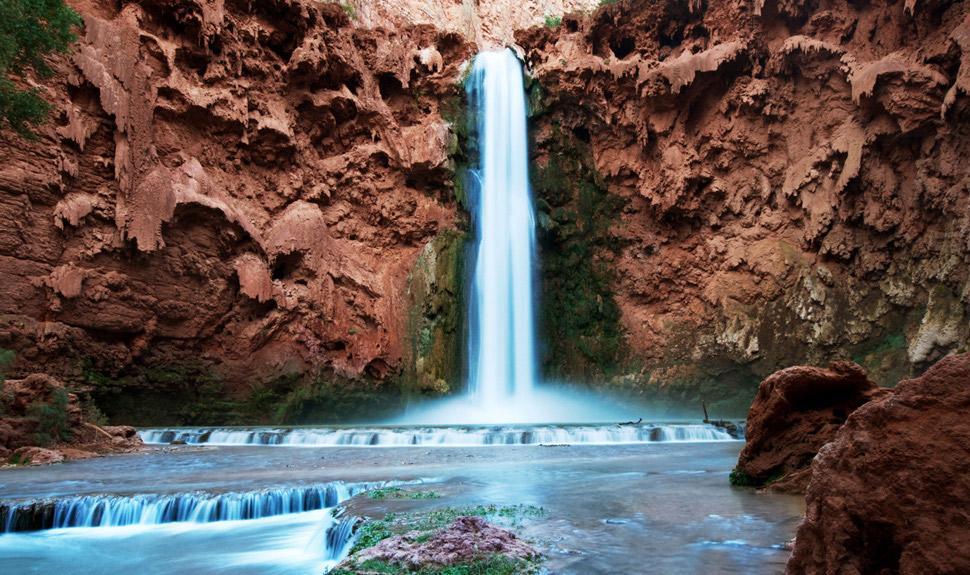 Beaver Falls: Beaver Falls is the furthest away and requires trekking through water, narrow trails, and over sketchy wooden bridges. It's 3.5 miles each way (7 miles round trip) and a good place to cliff jump too.
Beaver Falls – The Last of the Waterfalls in Havasu Canyon. It is a 3.5 mile hike from the Havasu Campground.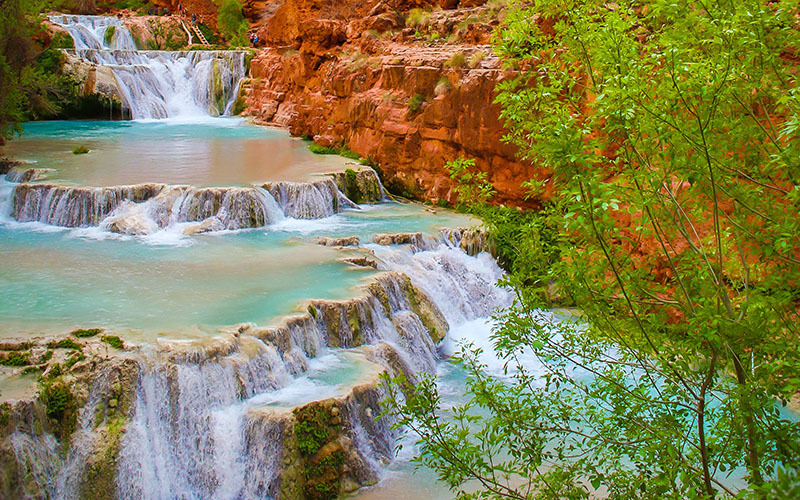 OTHER TIPS
Havasupai is subject to flash floods, so check the weather forecast and always know where to find high ground (there will be signs).
Be sure to bring your permit info and paid receipts. There are multiple checkpoints during the hike and at the campsite.
When turning onto the road to Hualapai Hilltop, drive slowly and carefully, there is a lot of wildlife and cattle on the windy road.
It can get extremely hot in the summer! To avoid the sun, leave early (like 3am early).  You can hike during the night, so bring a headlamp!
There is a small restaurant in Supai and a food stand at the front of the campground.
You just need to pack enough water to get to the campground, there is a fresh water you can refill with there.
Frequent flooding causes waterfalls to disappear and reappear. What you see now may not exist in the future.
REMINDER: Arrive early and get a campsite as soon as you can! It's all first come first serve and can fill up quickly.  For more information or to create your Custom Havasu Falls experience, get in touch with Blue Marble Adventure GeoTourism!
Going Guided
****As of 2019, the Havasupai Tribe has placed a moratorium on all commercial guiding into Havasu Canyon.  Due to overwhelming popularity, overcrowding, and lack of regulation, the tribe thought it best to place a hold on all guided tours until a proper management plan can be outlined.  Contact us for information regarding self-guided tours, and other means of support for trips to Havasu Falls.
Read our blog!
For adventure hiking vacations in a geologic time machine, see our epic tours in Grand Canyon, Utah, and Arizona!
For geological musings read The Goat's geology blog.
Follow us on Facebookand Instagram
Explore Further, Be Wild, See Through Time — Blue Marble Adventure GeoTourism