Top 5 Backpacking Trips in the Southwest
The American Southwest is a veritable buffet of life-list adventures.  From the tame to the rugged, there is something for everyone here.  Whether you are hiking and backpacking in Utah, Death Valley, Grand Canyon, or the wild Sonoran Desert, The Goat has compiled his top 5 backpacking trips in the American Southwest just for you.  Follow along with us as we take you on a dream tour of our epic backyard.
5.  Bucksin Gulch to Paria Canyon, Vermillion Cliffs National Monument, Utah Canyon Country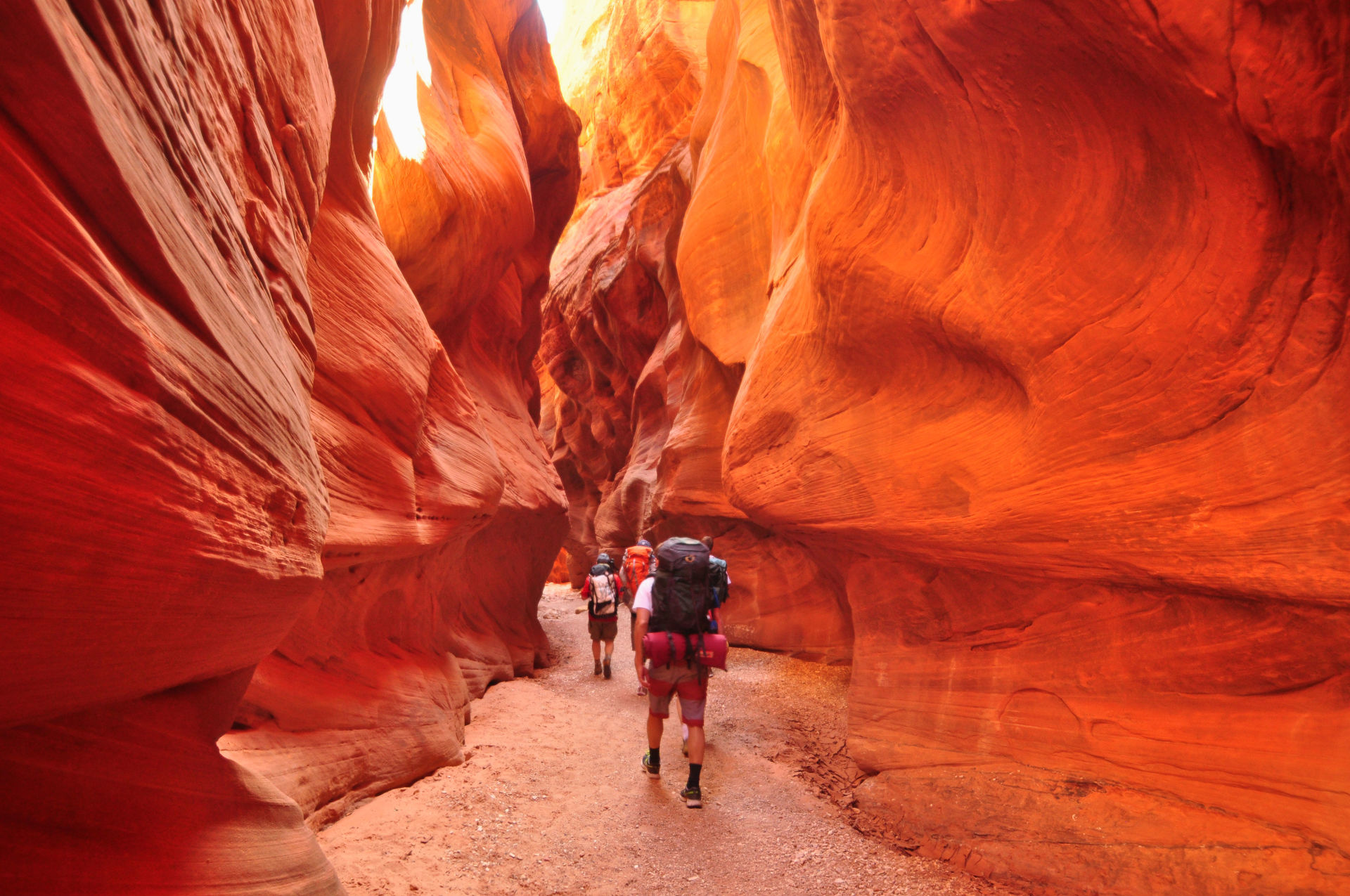 Simply put, this is one of the finest canyon hiking experiences in the world.  This 43-mile, multi-day point-to-point takes hikers through the longest, deepest slot canyon in North America (and perhaps the world) the Buckskin Gulch.  Towering sunset sandstone walls lead you through this coursing labyrinth, crossing the Paria River over 50 times before it dumps you out at Lee's Ferry, the official beginning of the Grand Canyon.  Along the way hikers are treated to epic canyon scenery, including several soaring natural arches, waterfalls, natural springs, the dreaded "Cesspools," and a pleasant grade that makes it easy to revel in the scenic and geologic wonders.  Paria Canyon and Buckskin Gulch can be done separately, but it is The Goat's preference to get them both done in this fabulous backpacking tour of quintessential canyon hiking.
4.  Sundance Trail to Dark Canyon, Dark Canyon Primitive Wilderness, Utah Canyon Country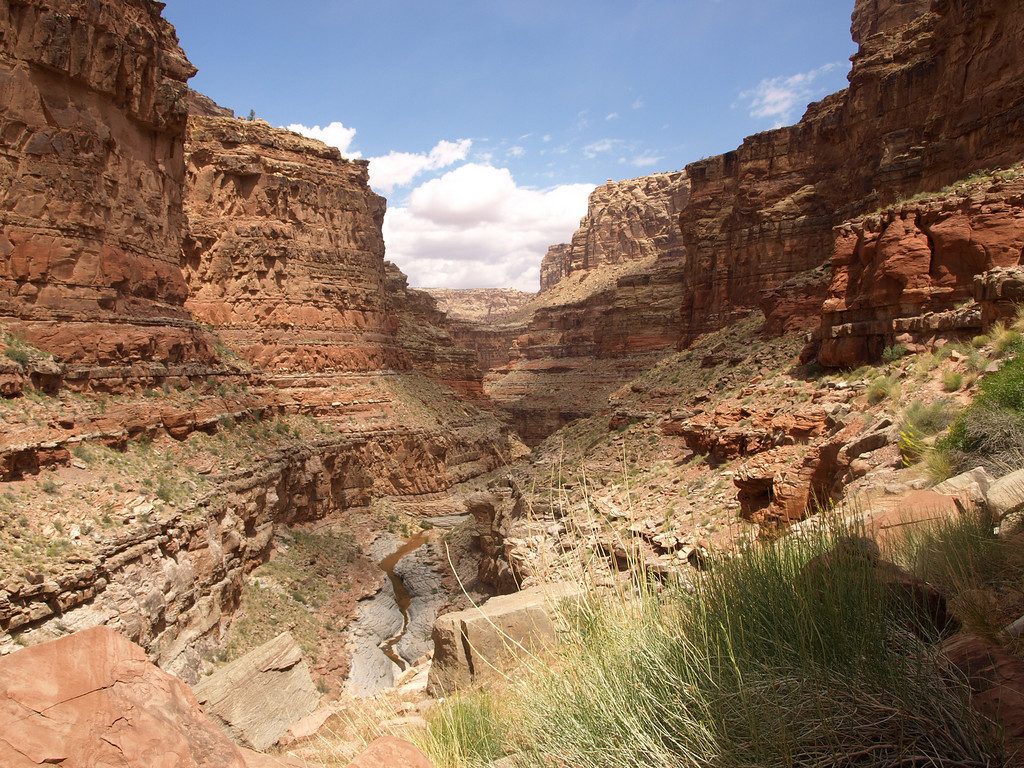 Potentially the best part of this fantastic hiking and backpacking experience in the depths of Utah's Canyon Country is that you may have Dark Canyon all to yourself.  Intrepid hikers will travel at least 2-3 hours in any direction across 4×4 roads just to reach the trailhead, which makes getting here a fabulous adventure in and of itself.  Once here, Dark Canyon presents hikers with some of the most unspoiled scenery and geology in Utah and all of the American Southwest.  Often referred to as "the Little Grand Canyon" due to its ever-changing hues and sheer cliff walls, Dark Canyon is one of the premier canyon hiking destinations in the United States.  The Sundance Trail descends a particularly rugged and thrilling ridge down into the depths of Dark Canyon, and once there, gives nearly limitless opportunities for hiking into side canyons and tributaries, each more stunning than the last.  The Sundance Trail can also serve as a simple day hike, but The Goat recommends at least two or more days in this outstanding Utah canyon wilderness.
3.  Marble Canyon via Cottonwood Canyon, Death Valley National Park, California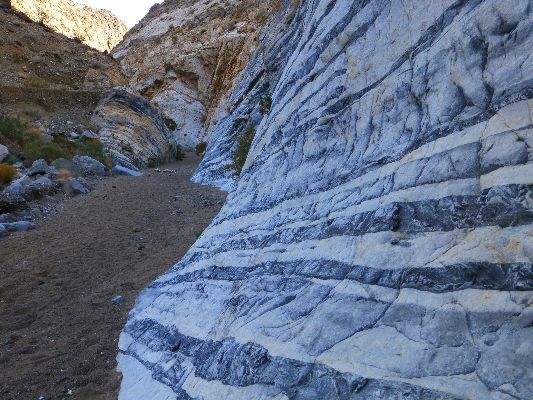 Death Valley: hot, barren, and boring, right?  Wrong.  Death Valley is perhaps the most ecologically diverse and geologically astounding place in North America, and the Marble Canyon via Cottonwood Canyon backpacking route puts that on full display.  Running natural springs surrounded by towering cottonwood trees?  Check.  Polished billion year-old marble?  Check.  Slot canyons?  Check.  Solitude?  Check.  Adventurous route-finding and scrambling?  Double Check.  Backpackers and hikers typically do Marble Canyon only, however, The Goat prefers to make the Cottonwood to Marble Canyon traverse via Dead Horse Canyon, a rugged and wild adventure that will truly give you appreciation for the grandeur and diversity of Death Valley.
2.  West Canyon, Arizona Red Rock Country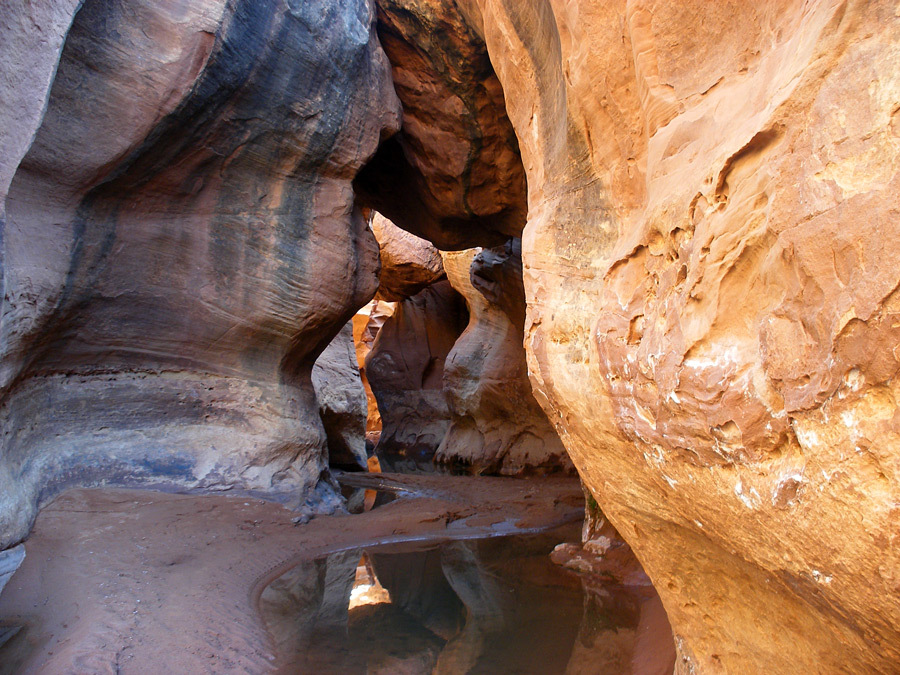 West Canyon is regarded by many (including The Goat) as the finest slot canyon on the Colorado Plateau.  It does not hold any particular distinction as far as length, depth, or width, but its scenery and slot canyoning experience is absolutely second-to-none.  Backpacking through West Canyon, the hiker is almost immediately confronted with swimming opportunities, old hogans, several dry falls that require exciting scrambling, and all this within the first mile of the canyon.  As the backpacking continues, the hiker will reach waterfalls, enormous and outrageous alcoves, and numerous opportunities for hiking into side canyons, ducking through thrilling narrows that often require a headlamp, and quintessential sunset sandstone walls that seem to bathe in the soft sunlight that reaches into the depths of the canyon.  What really puts this adventure over the top, however, is the boat trip required to reach the canyon, making West Canyon a unique and powerful experience in Red Rock Canyon Country.
1.  Tanner Trail to Grandview Point via the Escalante Route, Grand Canyon, Arizona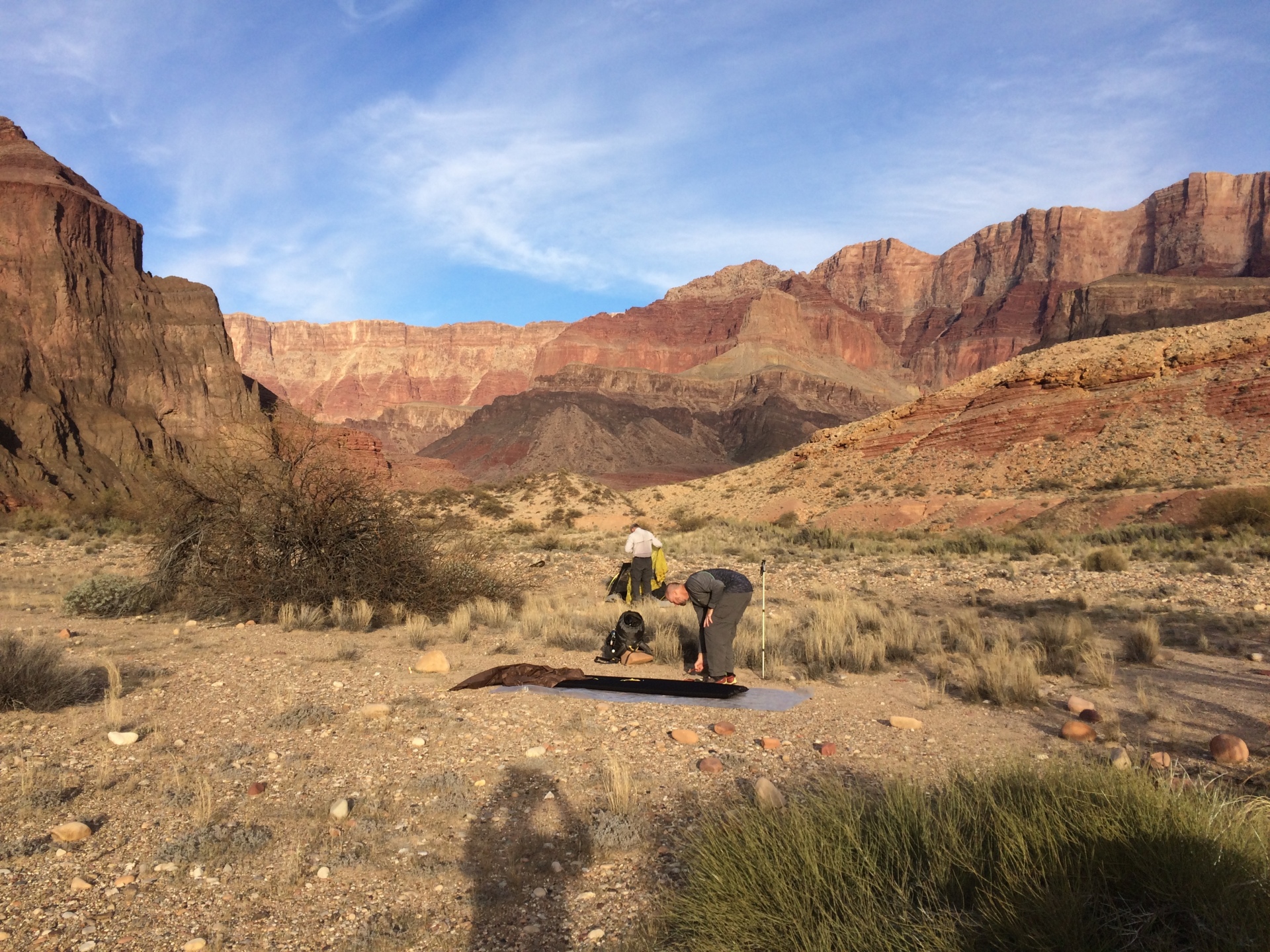 This is the #1 backpacking trip in the American Southwest for one simple reason: the ultimate combination of geology and scenery.  As with any hike in the Grand Canyon, hikers are confronted with nearly 2 billion years of Earth's history painted on the walls.  However, on the Escalante Route, hikers and backpackers get up close and personal with two of the Grand Canyon's greatest scenic and geologic features, the Great Unconformity and the Butte Fault.  We'll leave one of our geologist/guides to walk you through the finer points of these fabulous features, but let's just say that they add a fabulous spice to this outrageously scenic hike that includes a class 3 scramble up the Papago Wall, delving into a slot canyon, camping at the beach, and utter solitude.  The Escalante Route presents exciting challenges and sweeping grandeur, all in the eastern part of Grand Canyon before the Colorado River enters the Inner Gorge.  This wide-open expanse will give you a true perspective on the grand scale of Grand Canyon, as you confront literal mountains within the canyon, all the way down to narrow slots and three separate Colorado River-side camps that do not disappoint.
So there you have it ladies and gentleman, the Top 5 Backpacking Trips in the American Southwest.  You can tackle them yourself, or to enhance your experience, you may choose to tackle them with our fabulous geologist/guides that will school you on every whit and whimsy in these beautiful rocks.  See you on the trail!
Going Guided
Hiking and exploring Grand Canyon, or any of the National Parks, is a special experience.  Although it is possible to see these places yourself, hiring a guide is a great idea.  For instance, guiding services provide logistical support, and plan everything for your best possible trip.  They provide a great safety net on the trail, and are trained in backcountry medicine. Above all, they provide a depth of knowledge of the region that turns a walk into a true adventure.
Blue Marble Adventure GeoTourism provides all of the support you need, and pairs that with expert geologist/guides.  Our backcountry meals use fresh ingredients, and are planned by a professional chef.  Furthermore, we provide top-of-the-line gear and passion for the places we explore.  In conclusion, you can visit National Parks, but going with a guide can create and even more memorable experience.  Don't be shy, and call us!
Read our blog!
For adventure hiking vacations in a geologic time machine, see our epic tours in Grand Canyon, Utah, and Arizona!
For geological musings read The Goat's geology blog.
Follow us on Facebookand Instagram
Explore Further, Be Wild, See Through Time — Blue Marble Adventure GeoTourism