Hiking on the Mogollon Rim, Arizona
With so many jaw-dropping natural features, Arizona can be almost overwhelming in terms of choices.  Let us simplify things for you: go to the Mogollon Rim.  Why?  Lakes, canyons, spectacular scenery, wildlife, solitude, cool summer weather, history, and of course, geology.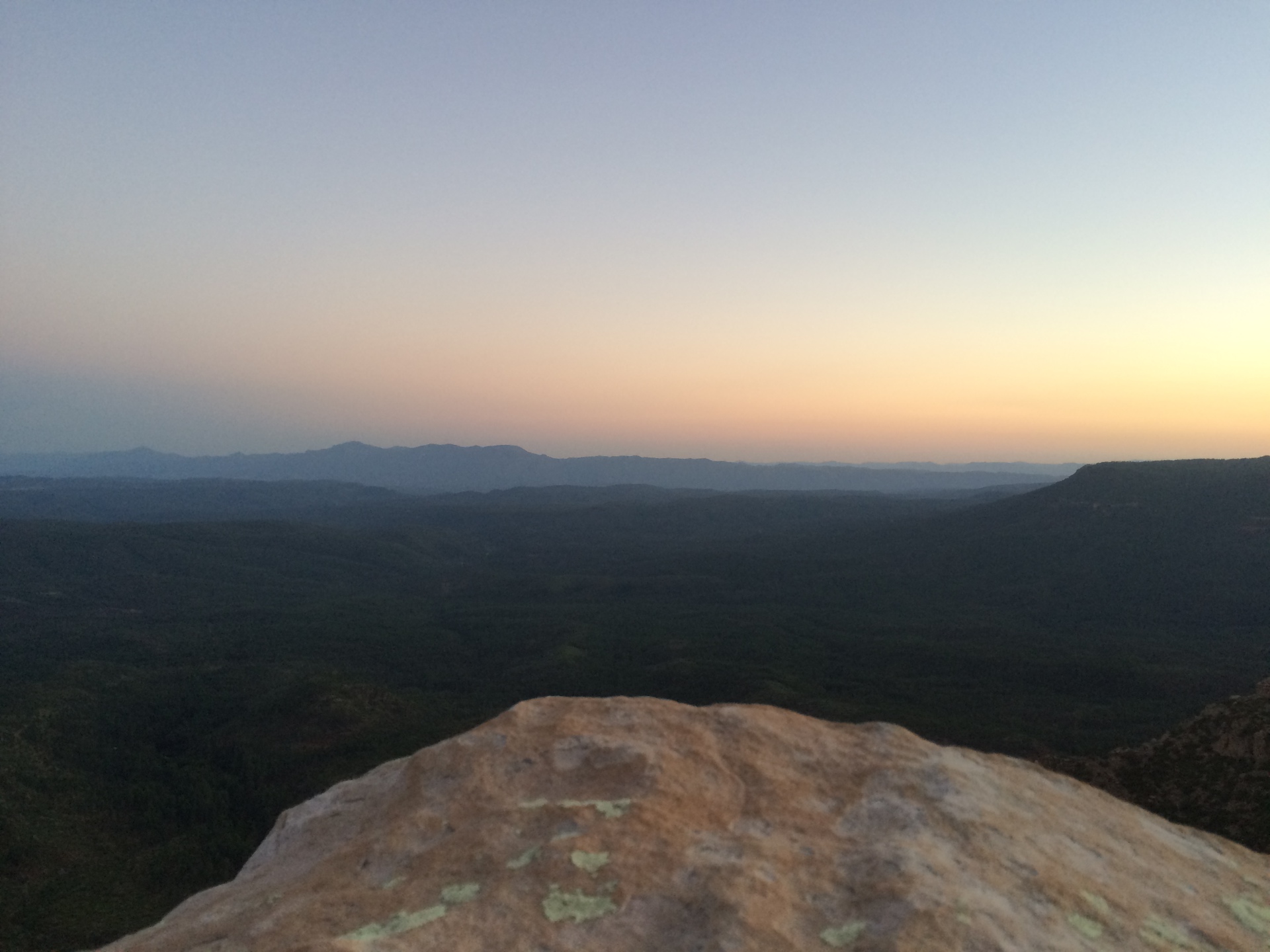 Geology
"The Rim" is the actual edge of the Colorado Plateau, famous for the Grand Canyon, Zion, Bryce, Arches, Canyonlands, volcanoes, rivers, and some of the most outrageous displays of sedimentary geology in the world.  To the south lies the Transition Zone and the Basin and Range, geologic provinces characterized by extensional faulting and the Sonoran/Mojave Deserts.  It is the last bastion of the flat-lying sediments, the precipitous drop-off to the ends of the Earth.

History
Sitting over 1000ft. higher than the land just to the south, The Rim provides a dramatic gateway to Plateau country, and has indeed been the sentinel of our beloved Plateau.  As civilization expanded with the railroad and the Westward Migration of the late 19th century, the Mogollon Rim kept large swaths of civilization away with its foreboding cliffs and complex topography.  In 1871, General George Crook was given the task of creating a throughway across The Rim from Fort Apache near present day Show Low, AZ to Fort Verde near present-day Prescott, AZ.  Today, this road serves as The Rim Road, and is the main route of travel on The Rim, providing access to all the lakes and scenic points that it offers.
Hiking
The Mogollon Rim offers nearly limitless hiking opportunities.  Simply hiking along the rim itself is a great experience.  Exploring the many canyons carved into the rim provides adventures for all levels, from easy strolls to technical descents.  The Arizona Trail runs through the rim, and is a great trail to explore if this is your first time here.
Going Guided
Hiking and exploring the Mogollon Rim is a special experience.  Although it is possible to see these places yourself, hiring a guide is a great idea.  For instance, guiding services provide logistical support, and plan everything for your best possible trip.  They provide a great safety net on the trail, and are trained in backcountry medicine. Above all, they provide a depth of knowledge of the region that turns a walk into a true adventure.
Blue Marble Adventure GeoTourism provides all of the support you need, and pairs that with expert geologist/guides.  Our backcountry meals use fresh ingredients, and are planned by a professional chef.  Furthermore, we provide top-of-the-line gear and passion for the places we explore.  In conclusion, you can visit National Parks, but going with a guide can create and even more memorable experience.  Don't be shy, and call us!
Read our blog!
For adventure hiking vacations in a geologic time machine, see our epic tours in Grand Canyon, Utah, and Arizona!
For geological musings read The Goat's geology blog.
Follow us on Facebookand Instagram
Explore Further, Be Wild, See Through Time — Blue Marble Adventure GeoTourism