Everything you need to know for Hiking in Sedona
Every year, thousands of people flock to the iconic red rock formations of Sedona, Arizona.  They come from all over the state, all over the country, and all over the world to view and embrace the world famous vistas, world-class hiking, and spiritual zen that makes Sedona so famous.  The views here are spectacular, the hiking, mountain biking, rock climbing, and outdoor adventure limitless, the geology almost confrontational, and the scale grand.  But what should you, the savvy adventure traveler, know before you come to this iconic destination?  The Goat is here to help you have the best time possible in this epic red rock getaway, including the best trails, the secret spots, and of course, how to make it back in one piece.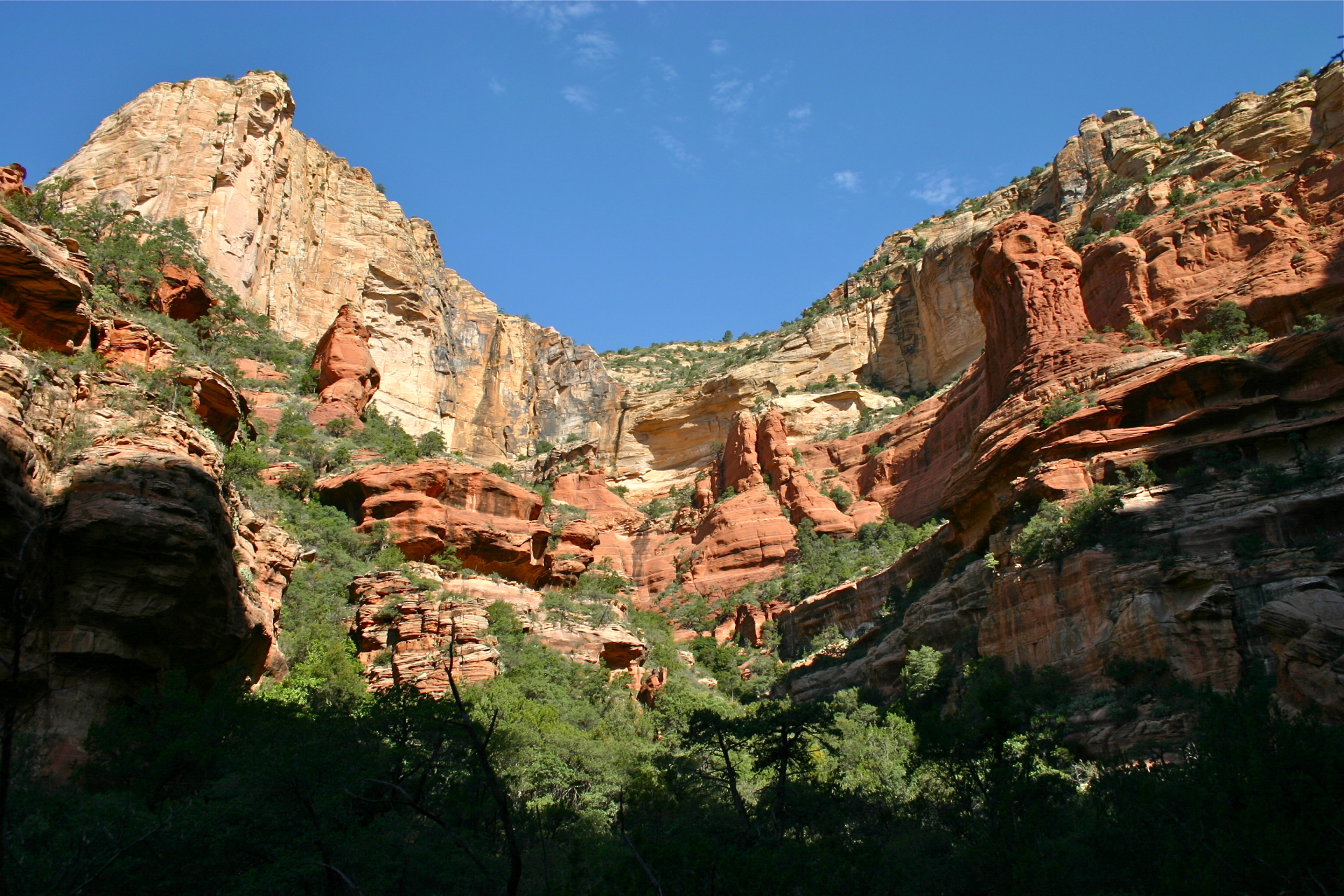 Location:
Sedona is located in the Arizona Transition Zone, about 1.5 hours north of Phoenix in Central Arizona.
Sedona can be approached from any direction, but the most scenic routes are from the north or the east.  From the north, take Route 89A south from Flagstaff and wind your way through world famous Oak Creek Canyon.  This drive is particularly spectacular in the fall, when the aspens, oaks, and willow trees are in full color.  Approaching from the east on AZ SR 179 gives you an immediate and full introduction to Sedona's famous red rocks, as you will see several of the most famous rock formations including Cathedral Rock, Courthouse Butte, and the Mogollon Rim.  Take I-17 north from Phoenix and head west on SR 179.
Local's Secret:  Approaching via Schnebly Hill Road is truly the way to go, provided you have a capable (preferably high-clearance 4×4) vehicle.  From Interstate 17, take the Schnebly Hill Road exit, and enjoy the backside approach and spectacular views.
Seasons:
Sedona is classified as high desert, with mild winters, hot summers punctuated by rainstorm events known as monsoons, and arid climate vegetation such as cactus, piñon pine trees, manzanita, ocotillo, and yellow marigold.  The premier seasons to hike here are September-June, as summer temperatures on the trail can routinely exceed 100 degrees in the middle of the day.
Local's Secret:  Sedona, and its neighbor Oak Creek Canyon, have hikes for all seasons.  Oak Creek, in particular, stays cool and shady when it's too hot to hike in Sedona.  Check out West Fork of Oak Creek Canyon Trail, it's one of the best in the country!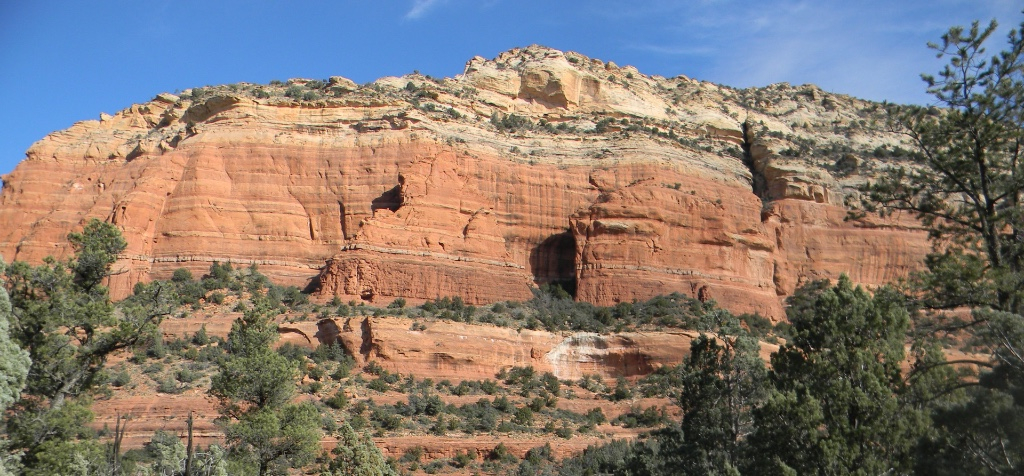 Terrain:
Sedona and Oak Creek Canyon have highly variable terrain, ranging from flat and easy canyon hikes to strenuous mountain climbs and just about everything in between.  The soil here is quite rocky, as are most of the trails, so most hikes in Sedona or Oak Creek will require at least some sturdy athletic shoes.  In many cases, trails in Oak Creek cross the water, so be aware of the trail you are about to embark and bring the proper footwear.
Summer Activities:
Here is a small sampling of the great activities to engage in while visiting Sedona in the warm months (May-September)
Hiking – Be sure to get an early morning, or evening start to avoid mid-summer temps
Mountain Biking – Sedona has world-class sandstone mountain biking trails
Rock Climbing – Oak Creek Canyon has some of the best technical routes in the state
Camping – Check out the Forest Service for group sites
Horseback Riding – Saddle up!
4×4 Tours – There are many excellent and adventurous Jeep trails in the surrounding area
Helicopter Tours – Should the mood strike you, a Red Rock Heli Tour may just hit the spot
Wining, dining, and exploring the towns of Oak Creek and Sedona
Kayaking – The Verde River offers some of the most scenic and relaxing paddling in the southwest
​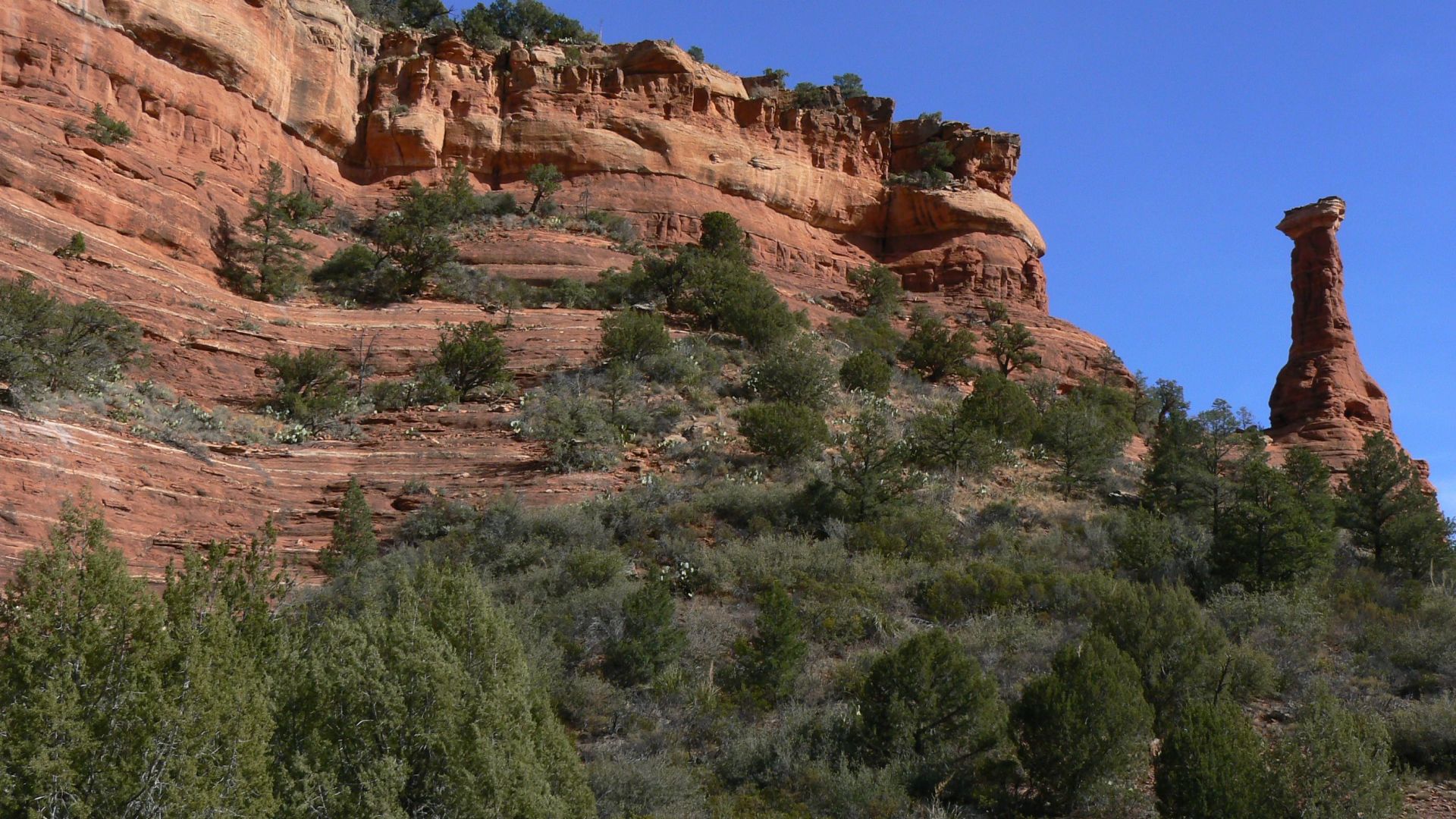 Fall/Winter/Spring Activities
When temperatures cool off, there is even more to do in Sedona and Oak Creek!
Hiking – If there is no snow, winter hiking in Sedona is a must!
Rock Climbing – Cooler temps open many of the classic routes in Sedona's red rock country
Mountain Biking – the wet and cooler temperatures make winter mountain biking a blast in Sedona
Yoga Retreats
Wining, Dining, and exploring the towns of Oak Creek and Sedona
​
For more information about hiking and adventuring in Sedona and Oak Creek, give us a call!  Our geologist/guides will be happy to show you around, and point you in the right direction!
Want to know more about our Guided Sedona Hiking Tours?
Going Guided
Hiking and exploring Sedona is a special experience.  Although it is possible to see these places yourself, hiring a guide is a great idea.  For instance, guiding services provide logistical support, and plan everything for your best possible trip.  They provide a great safety net on the trail, and are trained in backcountry medicine. Above all, they provide a depth of knowledge of the region that turns a walk into a true adventure.
Blue Marble Adventure GeoTourism provides all of the support you need, and pairs that with expert geologist/guides.  Our backcountry meals use fresh ingredients, and are planned by a professional chef.  Furthermore, we provide top-of-the-line gear and passion for the places we explore.  In conclusion, you can visit National Parks, but going with a guide can create and even more memorable experience.  Don't be shy, and call us!
Read our blog!
For adventure hiking vacations in a geologic time machine, see our epic tours in Grand Canyon, Utah, and Arizona!
For geological musings read The Goat's geology blog.
Follow us on Facebookand Instagram
Explore Further, Be Wild, See Through Time — Blue Marble Adventure GeoTourism