Top 5 Hikes in Sedona
Sedona:  The very mention conjures up blazing red rock sunsets, towering spires, monolithic cathedrals, and inspiring zen.  Another phrase the word Sedona should conjure in your mind is this:  world-class hiking.  Sedona's hundreds of miles of wilderness trails presents some of the most excellent hiking in the American Southwest, with sweeping iconic red rock vistas, wildlife, and, if you know where to look, relaxing and fulfilling solitude.  Sedona's hiking trails are also, of course, an excellent place to view the ebb and flow of ancient seas along the Pangean coastline many millions of years ago, making it of very special interest to Blue Marble's Goat.  Here, we have prepared for your hiking pleasure The Goat's Top 5 Sedona Hiking Adventures.  See you on the trail!
5.  Bear Mountain, Red Rock-Secret Canyon Wilderness, Sedona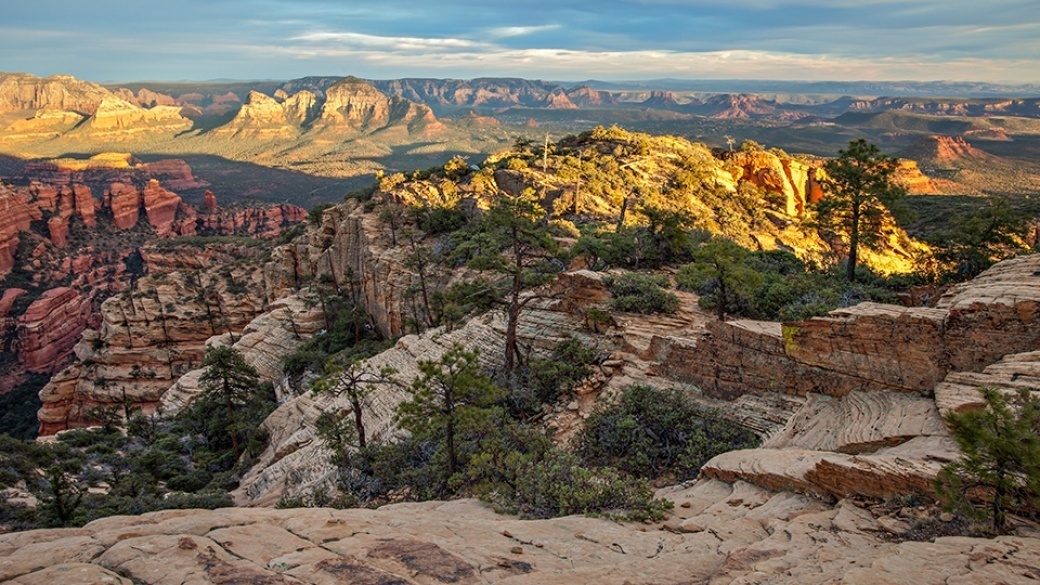 Bear Mountain, one of Sedona's highest peaks at 6506 ft above sea level, is also one of Sedona's most spectacular hikes.  In addition, given that it is one of the more challenging and rugged trails, it is one of the least populated, as people opt for Red Rock Country's easier trails.  This is excellent news for you, because the reward for hiking the Bear Mountain Trail are some of the most spectacular views Sedona has to offer, which we don't have to tell you means something.  This is also a perfect hike in the cooler months, as the southern aspect and lack of shade maintains warm temperatures in the fall, winter, and spring.  From the summit of this red rock monolith, all ten of Sedona's stratigraphic layers can be seen and counted, making it of special importance to The Goat.
4.  Secret Canyon, Red Rock-Secret Canyon Wilderness, Sedona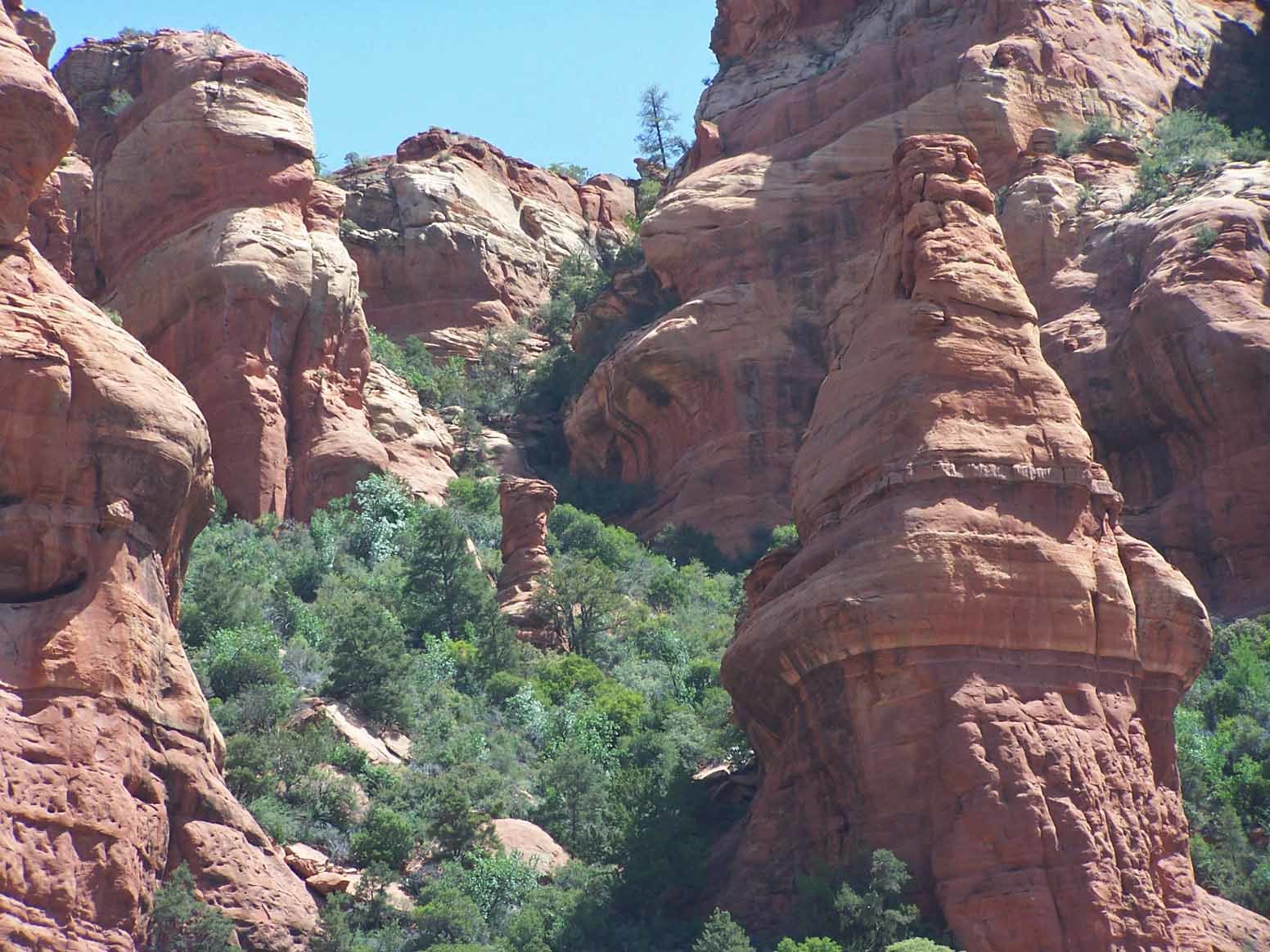 Secret Canyon is perhaps the quintessential Sedona hiking adventure.  This popular trail into its namesake Red Rock-Scret Canyon Wilderness contains some of the most natural beauty of any hike in Sedona, with a cool stream, shade, excellent wildlife-viewing opportunities, fabulous rock formations, and an intimate Sedona canyon experience.  What is most special about Secret Canyon, however, is that it is nearly as long, and perhaps even more beautiful than its more famous and populated neighbor Oak Creek Canyon.  In any case, Secret Canyon is a tremendous hiking adventure in Sedona, and a wonderful introduction to Red Rock Country.
3.  Wilson Mountain, Red Rock-Secret Mountain Wilderness, Sedona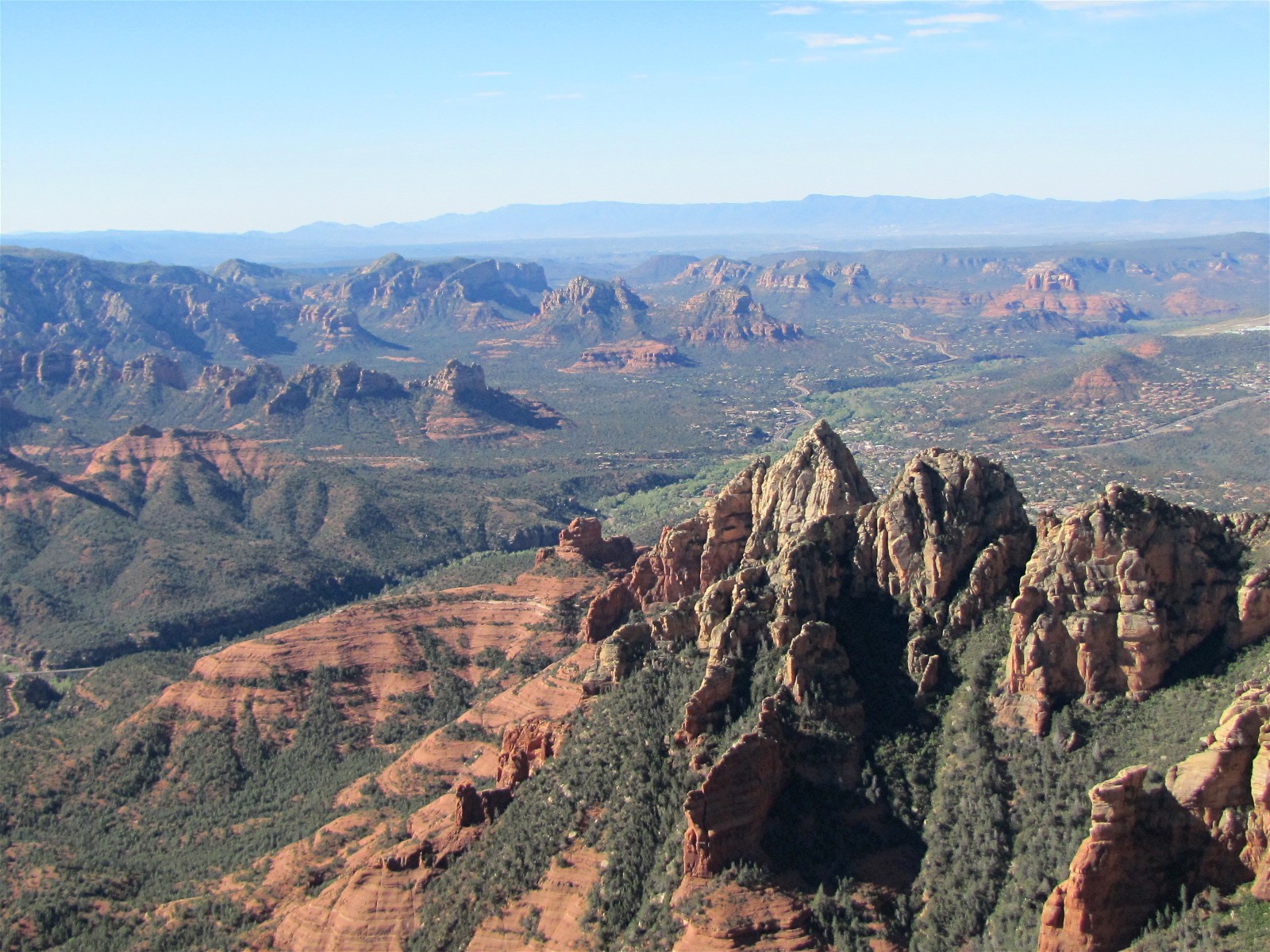 The highest peak in Sedona at over 7100 feet above sea level, Wilson Mountains reigns supreme for sweeping views of Sedona and beyond.  Excellent for hikers that are looking for more of a challenge, Wilson Mountain offers a rugged and adventurous trail that is a fabulous hike in the cooler months of the year.  At the summit, the hiker is treated to dramatic views of Sedona Red Rock Country, Oak Creek Canyon, the Mogollon Rim, and on a clear day, all the way to the San Francisco Peaks north of Flagstaff.
2.  Boynton Canyon, Red Rock-Secret Mountain Wilderness, Sedona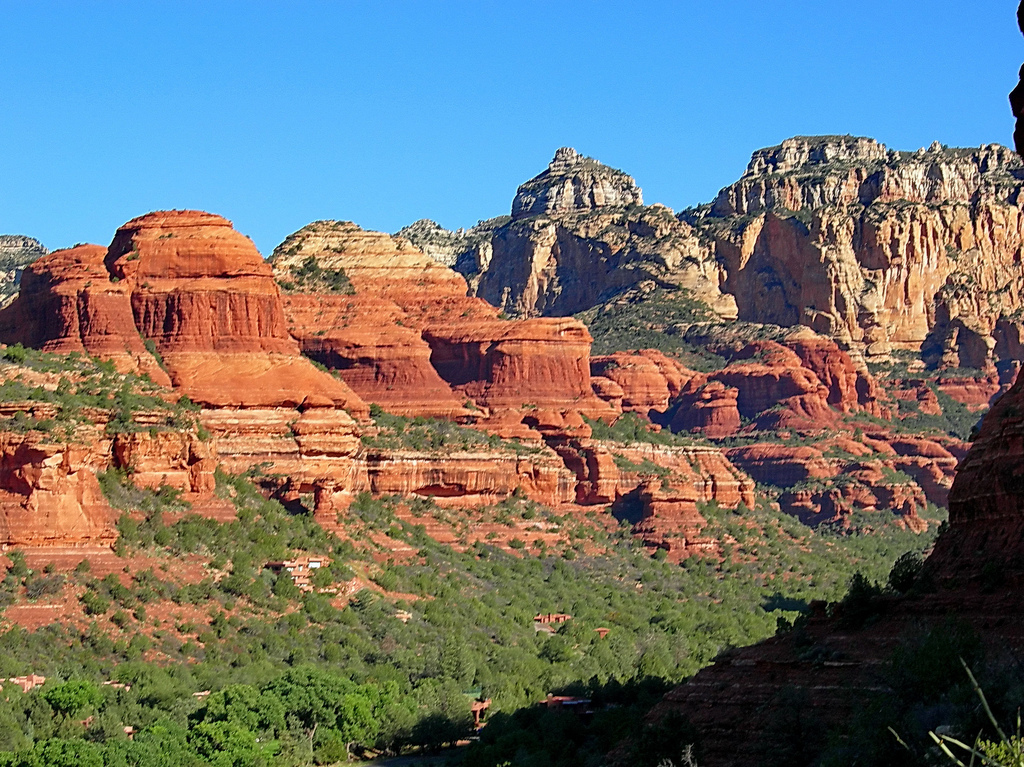 Boynton Canyon offers up one of the most spectacular canyon hiking experiences in the southwest, with towering red rock spires, buttes, mesas, and even a chance at wonderful solitude.  Rock climbers particularly are interested in this beautiful trail, as many of the rock formations here lend an opportunity for some epic routes up the soaring red rocks.  For the hiker however, Boynton Canyon is a special place in Sedona, as it is far enough removed from the town and its tourist traps that include the most popular trails, yet close enough to be reached in not much more time than it takes to reach some of the more popular destinations.  Goat approved!
1.  Loy Canyon, Red Rock-Secret Canyon Wilderness, Sedona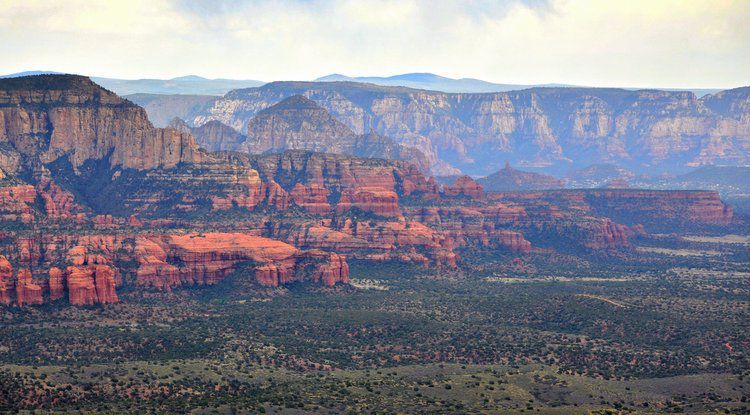 Loy Canyon earns our #1 ranking for one simple reason: diversity.  Loy Canyon provides a unique Sedona canyon hiking experience that is unmatched in our humble opinion, with solitude, shade, expansive views down the canyon, and opportunities for excellent overnight trips and trail connecting.  After a climb to the base of Secret Mountain, views into Loy Canyon are wide and dramatic, particularly in the morning and evening as soft light bathes the fiery red rocks and creamy sandstones that make Sedona famous.  Don't miss this one!
So there we have it, The Goat's Top 5 Sedona Day Hikes.  You can tackle these wonderful trails yourself, or enhance your experience with one of our fabulous geologist/guides who will let you in on all of Sedona's secrets.  See you on the trail!
Going Guided
Hiking and exploring Sedona is a special experience.  Although it is possible to see these places yourself, hiring a guide is a great idea.  For instance, guiding services provide logistical support, and plan everything for your best possible trip.  They provide a great safety net on the trail, and are trained in backcountry medicine. Above all, they provide a depth of knowledge of the region that turns a walk into a true adventure.
Blue Marble Adventure GeoTourism provides all of the support you need, and pairs that with expert geologist/guides.  Our backcountry meals use fresh ingredients, and are planned by a professional chef.  Furthermore, we provide top-of-the-line gear and passion for the places we explore.  In conclusion, you can visit National Parks, but going with a guide can create and even more memorable experience.  Don't be shy, and call us!
Read our blog!
For adventure hiking vacations in a geologic time machine, see our epic tours in Grand Canyon, Utah, and Arizona!
For geological musings read The Goat's geology blog.
Follow us on Facebookand Instagram
Explore Further, Be Wild, See Through Time — Blue Marble Adventure GeoTourism