Hiking in the Grand Canyon is truly a humbling, inspiring, jaw-dropping, fantastical, enlightening, and (insert hyperbole) experience.  Even a simple stroll along the rim of this national treasure is sure to conjure existential feelings that may stir your very being.  However, you may also find yourself confronted with so many choices that it could seem overwhelming.  Although it's impossible to make a wrong choice in Grand Canyon in terms of hiking choices, it is helpful to have someone that can narrow it down for you.  Here is The Goat's Top 5 Day Hikes in Grand Canyon National Park.
5.  Bright Angel Trail to Indian Gardens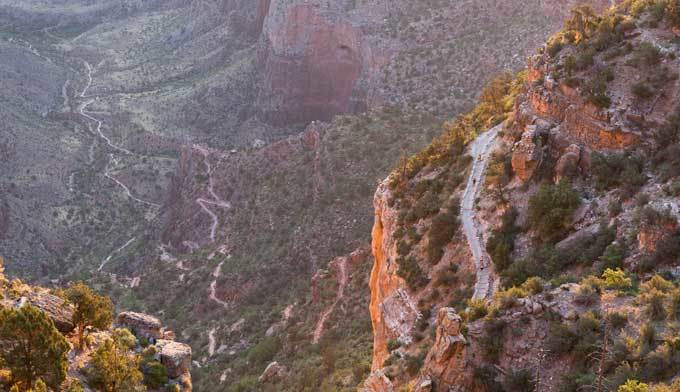 The most popular trip in the park, and one of the most famous day hikes in the world is the Bright Angel Trail to Indian Gardens.  Tracing the Bright Angel Fault, the central canyon's most important structural feature, the trail is excellent for first-time canyoneers.  Indian Gardens, named for the fact that it sustained Ancestral Puebloan peoples for thousands of years with its natural perennial spring and shaded riparian area, fabulous on hot days in the summertime.
Length:  6 miles round-trip
Difficulty:  Moderate
Season:  Year-Round, though midday in summer requires an early start
4.  Wildforss Trail to Wildforss Point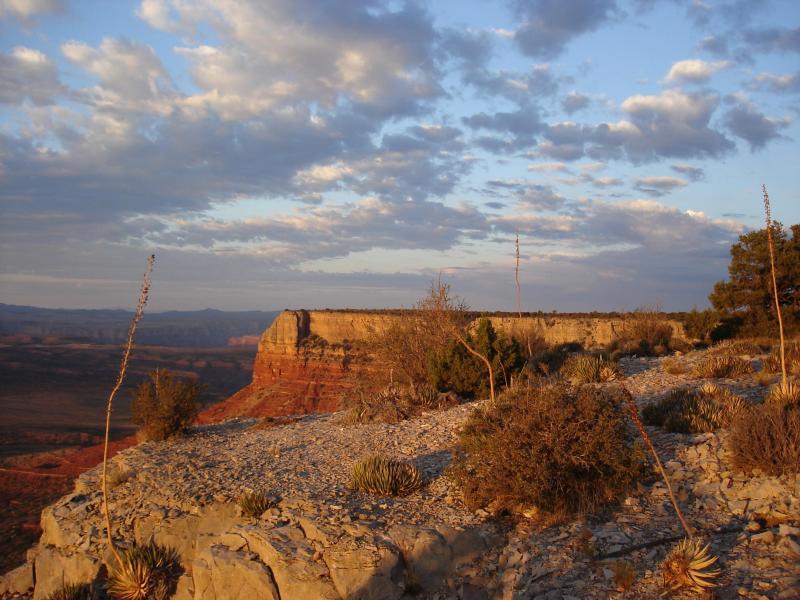 This grand North Rim hike is perhaps the finest hike in the Grand Canyon that does not take its travelers below the rim.  Named after Gunnar Wildforss, an artist who became enamored with painting the Grand in the 1920's and 30's using pastels and watercolors, the Wildfires Trail gives treats it hikers to fabulous views of the splendor of the North Rim from the Kaibab Plateau.  Clear days on this trail yields views all the way to the San Francisco Peaks near Flagstaff, nearly 80 miles away as the crow flies.
Length:  9.8 miles
Difficulty:  Moderate
Season: May-October
3.  Grandview Trail to Horseshoe Mesa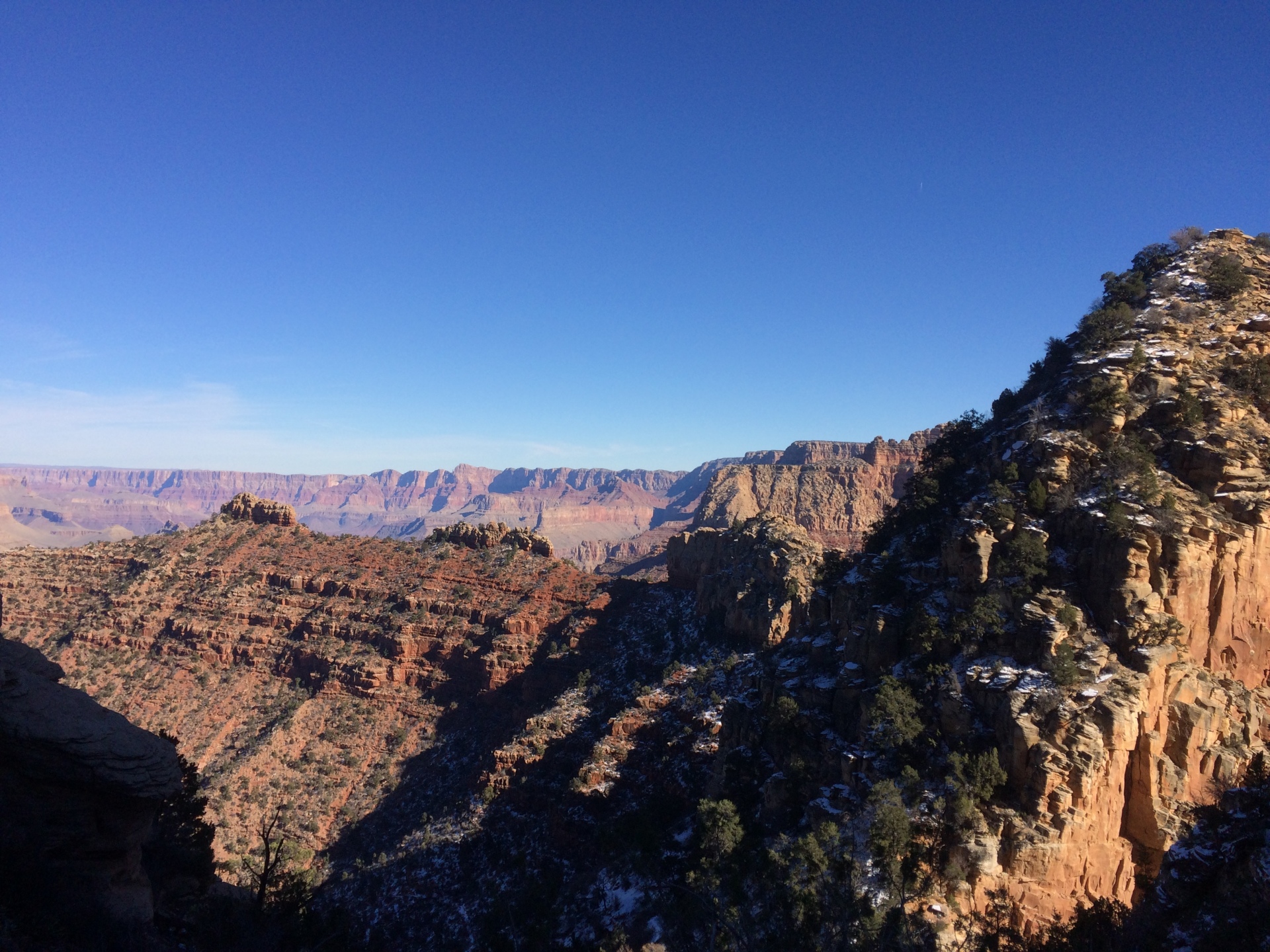 Though challenging, not to mention a bit toasty in the summer heat, this is simply one of the most outstanding hikes not only in Grand Canyon, but in the entire National Parks system.  From Grandview Point, which lives up to its name, hikers are treated to views of two monoclines (folds in the Earth's crust) and sweeping Grand Canyon Vistas.  A short side trip down the Redwall leads to the most successful mining claim in all of Grand Canyon, where some mining equipment and tunnels are left intact.  Lunch on Horseshoe Mesa is simply sublime.
Length: 6.5 miles
Difficulty: Strenuous
Season:  Year-round, though summer requires an early start
2.  Hermit Trail to Dripping Springs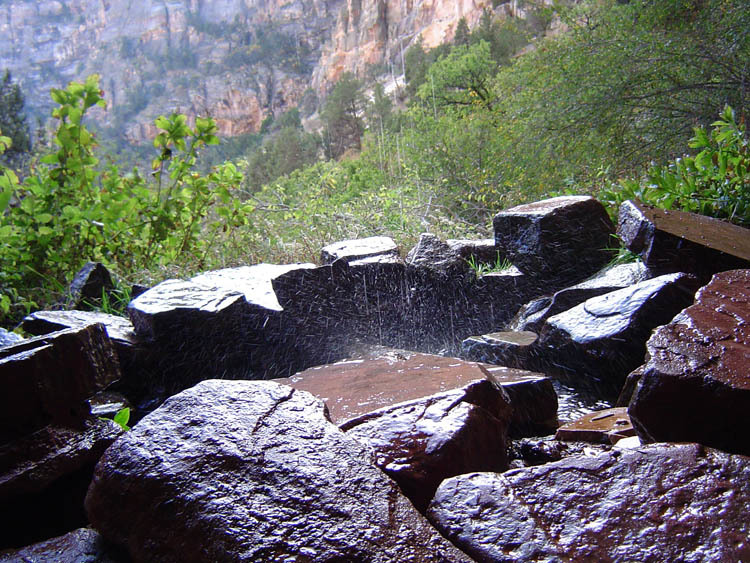 The best thing about this hike?  A fabulous lunch spot under a cave canopy of delightfully misty spring water.  Beat the crowds that flock to Bright Angel and South Kaibab trails by taking the shuttle out to Hermit's Rest and hiking down the Hermit Trail.  Dripping Springs also represents a fabulous opportunity to see the geologic forces that are responsible to carving Grand Canyon up close and personal.
Length: 6.25 miles
Difficulty:  Moderate
Season:  Year-round, though summer requires an early start
1.  North Kaibab Trail to Roaring Springs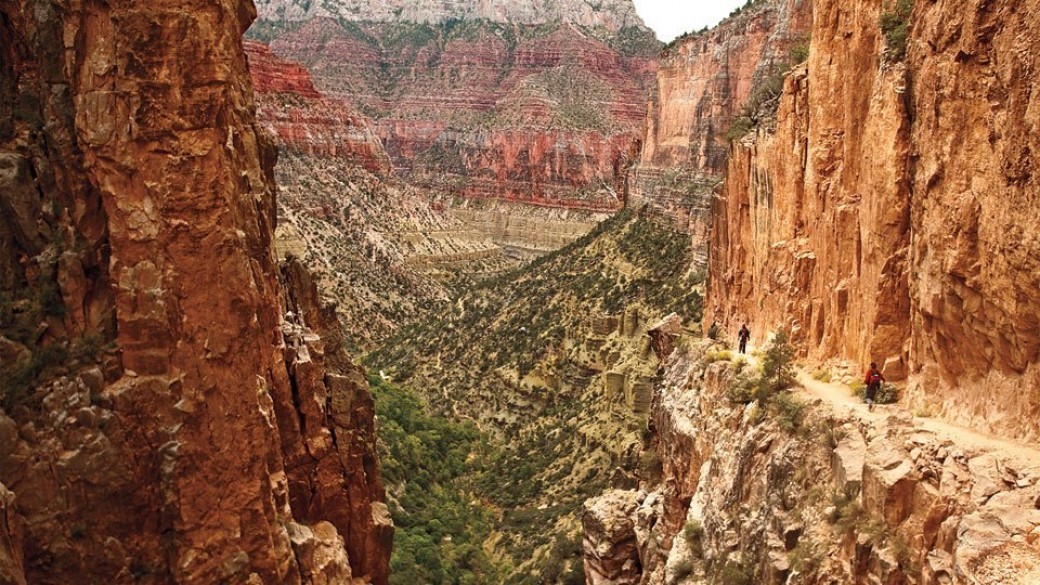 We're a bit partial to the North Rim here at Blue Marble Adventure GeoTourism, but that doesn't make The Goat's opinion on this one biased in the least.  North Kaibab to Roaring Springs is just the best day hike in the Grand Canyon, period.  Avoid the crowds of the South Rim and South Kaibab while enjoying spectacular and contemplative North Rim scenery.  Sound good?  It gets better.  The North Rim's only maintained trail is also the most approachable for first-time Grand Canyoneers, making it a particularly recommendation-worthy hike indeed.
Length:  10 miles
Difficulty:  Strenuous
Season:  Year-round, though summer requires an early start
The best way to experience everything that these hikes have to offer is with one of our expert geologist/guides, who will introduce you to the intricacies and secrets of the rocks in Grand Canyon, as well as history, culture, and everything that makes Grand Canyon so grand.  Call us today!
Going Guided
Hiking and exploring Grand Canyon, or any of the National Parks, is a special experience.  Although it is possible to see these places yourself, hiring a guide is a great idea.  For instance, guiding services provide logistical support, and plan everything for your best possible trip.  They provide a great safety net on the trail, and are trained in backcountry medicine. Above all, they provide a depth of knowledge of the region that turns a walk into a true adventure.
Blue Marble Adventure GeoTourism provides all of the support you need, and pairs that with expert geologist/guides.  Our backcountry meals use fresh ingredients, and are planned by a professional chef.  Furthermore, we provide top-of-the-line gear and passion for the places we explore.  In conclusion, you can visit National Parks, but going with a guide can create and even more memorable experience.  Don't be shy, and call us!
Read our blog!
For adventure hiking vacations in a geologic time machine, see our epic tours in Grand Canyon, Utah, and Arizona!
For geological musings read The Goat's geology blog.
Follow us on Facebookand Instagram
Explore Further, Be Wild, See Through Time — Blue Marble Adventure GeoTourism