Top 5 Reasons to Visit Grand Canyon in the Winter
Planning a winter getaway?  Think that hitting some great trails, seeing ridiculous scenery, and checking things off the bucket list is a summer-only kind of gig?  Think again.  The cooler months in Grand Canyon provide some of the best opportunities to explore everything that it has to offer, and not have to fight the crowds to do it.  The Goat gives you some quite convincing reasons why visiting Grand Canyon during the winter is an idea that seasoned travelers know is the veteran adventure travelers move.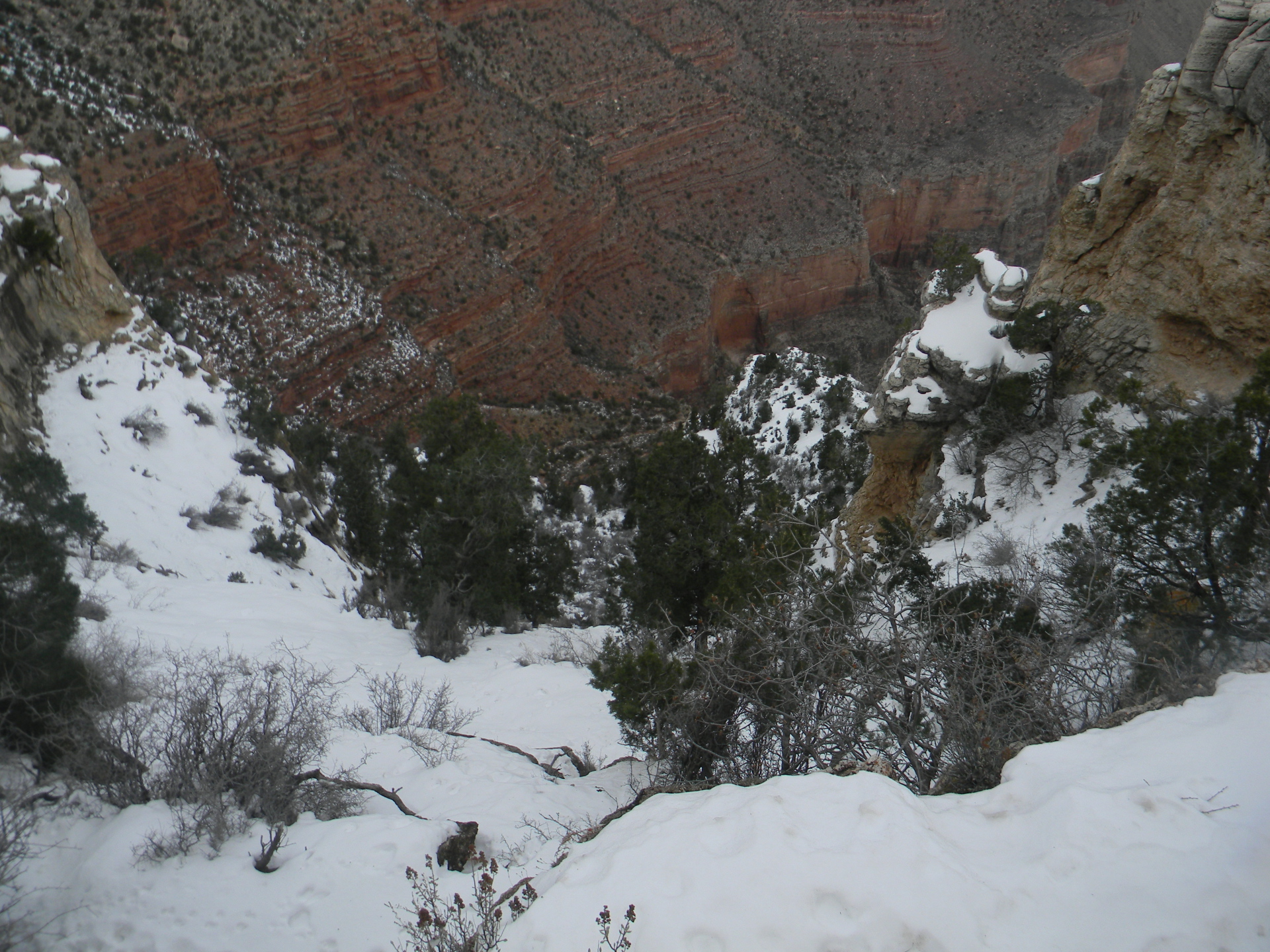 1.  The weather is fantastic
While summer in Grand Canyon is pleasant at the rim, going below the rim is best done very early in the day to avoid midday temperatures that can exceed 100 degrees, even at places like Indian Gardens.  Thinking of a summer rim-to-river-backpacking trip?  Bag that idea right now.  Summer in the Inner Gorge is the stuff of Dante's Inferno, and temperatures during the day can reach well over 120 degrees in the sun.
Travel smart and do your below-the-rim adventures in the cooler months of October-April, where you may get some chills and even snow on the rim, but down in the Canyon will be some of the best hiking weather you can imagine, with sunny temperatures in the mid 50s and 60s, which any canyoneer will tell you is just perfect.  These temps also mean that you don't need to start your below-the-rim hike in Grand Canyon at 3am, which is pleasant news for most of us, even The Goat
2.  The crowds are thin
Of the Grand Canyon's 6 million visitors in 2016, over half (3.2 million) visited between May and August.  That's a whole lot of people in a short amount of time.  The Grand Canyon still exists in the other 8 months of the year, and that's when you, the expert adventure traveler, wants to come.  Enjoy the dramatic views, take all the photos, create all the memories, all without having to fight for every inch during Grand Canyon's busy summer season, and that's just at the most popular places on the rim.  For those looking to venture below the rim, there's a good chance you will have most trails all to yourself for potentially miles at a time, especially during the week.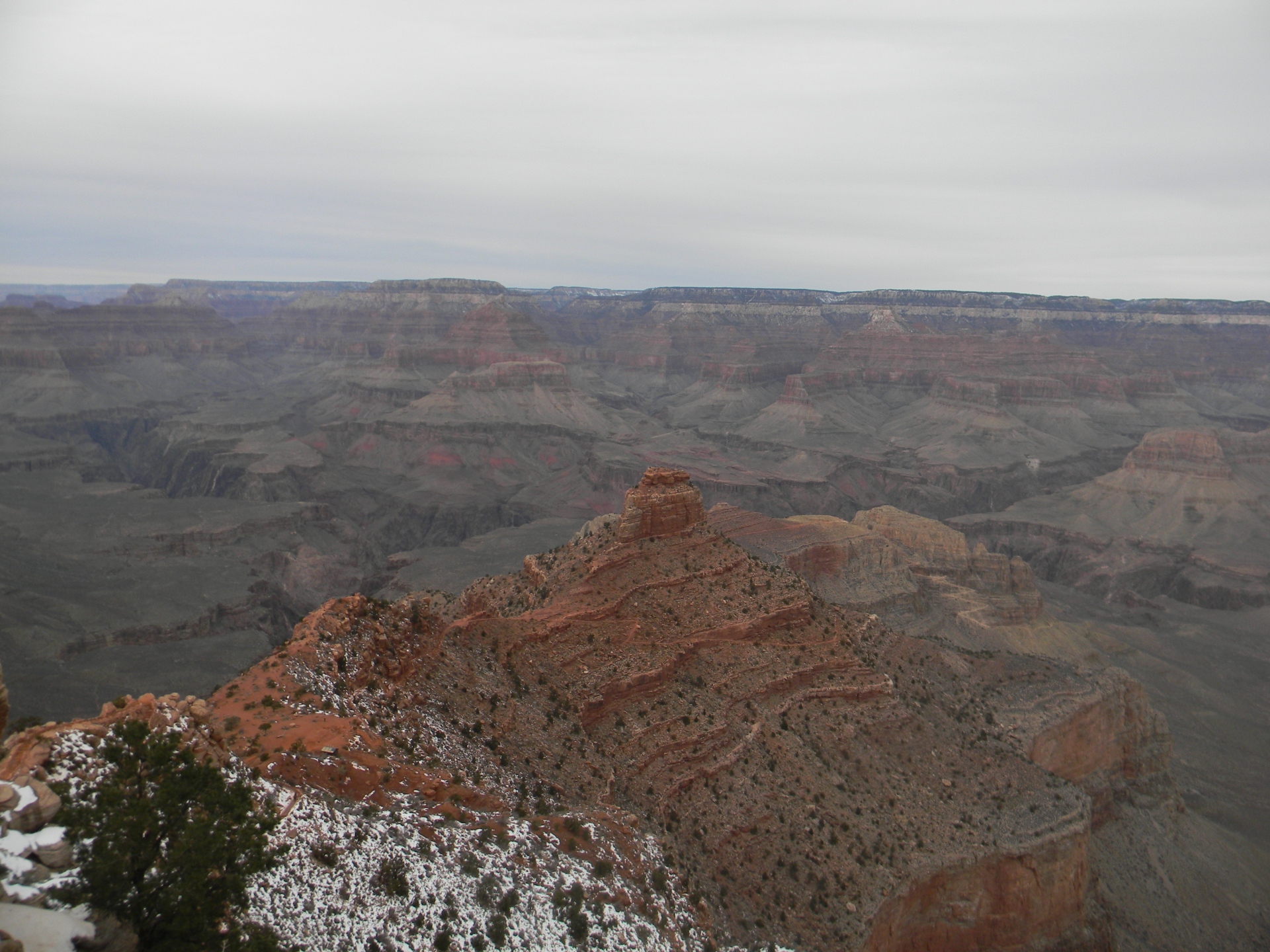 3.  Few things are more spectacular than snow in Grand Canyon
Ever seen fresh snowfall grace the orange, purple, red, and cream rocks of Grand Canyon?  If not, then you owe it to yourself to do so.  Some of the most spectacular scenes in The Canyon are made all that more so when dusted by a few inches of the white stuff.  Grand Canyon's South Rim stands at over 7,000 feet elevation, which means we get plenty of snow here during the winter months.  So grab a camera and throw on some snowshoes, winter photos at Grand Canyon are as rewarding as they are spectacular.
4.   Permits are much easier to come by
Did we mention the crowds (or lack thereof)?  This has a wonderful trickle-down effect for people looking to snag those hard-to-come-by permits for life-list trips.  Got shut out of Phantom Ranch?  Denied on the Hermit Trail?  Shot down on your rim-to-rim?  The winter months are perfect time to try for those popular permits, and you have a much better chance of securing the permits for that bucket-list Grand Canyon backpacking adventure November-February.
5.  Excellent off-season lodging rates and open campsites
Yet another desirable trickle-down of the lack of crowds is that Xanterra, the corporation that manages many of the accommodations in National Parks including Yosemite, Yellowstone, and Grand Canyon try to lure off-season business by offering deeply discounted rates, particularly if you are wanting to stay more than one or two nights.  Grand Canyon's world-class and historic El Tovar, one of the premier accommodations in the National Park system, is typically booked solid through summer several months in advance.  However, there are almost always rooms available in the cooler months.  Check out Grand Canyon's website for information on El Tovar and other lodging opportunities during the off-season.
For the more adventurous, Grand Canyon's developed campgrounds such as Mather Campground see much less traffic in the off-season.  Though it may be for good reason, those with the right gear and appetite will find these campgrounds almost wholly deserted during the winter months.  There is nothing quite like sipping a warm beverage whilst watching the sun slip down over Grand Canyon's horizon right from your camp chair, and having nobody but the birds sharing it with you.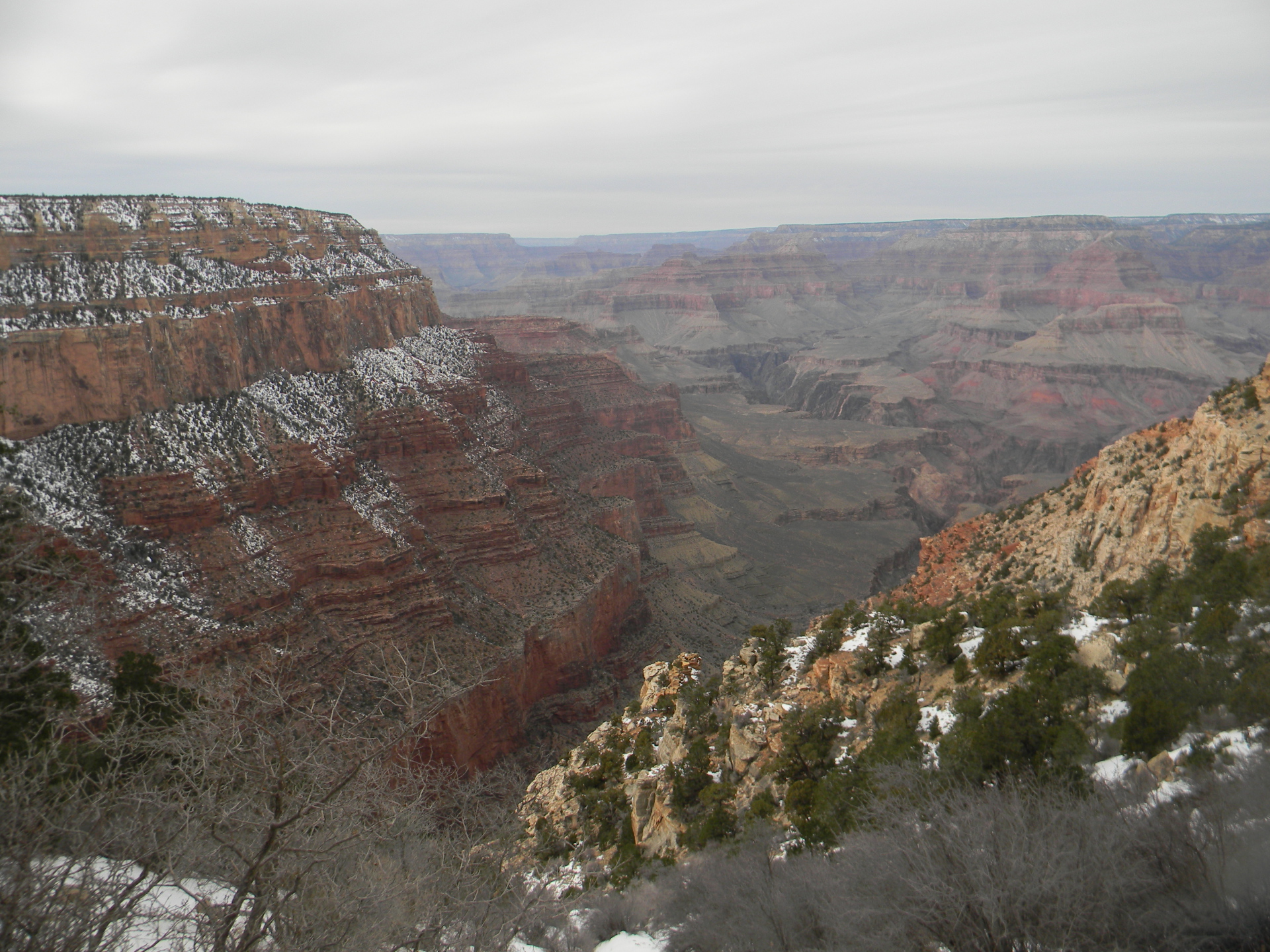 Bonus: Shorter days means later sunrise, earlier sunset
For the photographically-inclined hiker, you know that the best light for photos is early in the morning and in the evenings, when the harsh rays of midday have given way to softer hues and myriad colors.  The great news during the cooler months in Grand Canyon is that sunrise comes much later, and sunset comes much earlier, giving you more time to devote to your next great shot and less time chasing sunrises at 4am and sunsets at 9pm in the summer.
For more information about traveling to Grand Canyon, give us a call or reserve a spot on one of our guided geology hiking tours and let our geologist/guides walk you through 1.8 billion years of Earth's fascinating history!
Going Guided
Hiking and exploring Grand Canyon, or any of the National Parks, is a special experience.  Although it is possible to see these places yourself, hiring a guide is a great idea.  For instance, guiding services provide logistical support, and plan everything for your best possible trip.  They provide a great safety net on the trail, and are trained in backcountry medicine. Above all, they provide a depth of knowledge of the region that turns a walk into a true adventure.
Blue Marble Adventure GeoTourism provides all of the support you need, and pairs that with expert geologist/guides.  Our backcountry meals use fresh ingredients, and are planned by a professional chef.  Furthermore, we provide top-of-the-line gear and passion for the places we explore.  In conclusion, you can visit National Parks, but going with a guide can create and even more memorable experience.  Don't be shy, and call us!
Read our blog!
For adventure hiking vacations in a geologic time machine, see our epic tours in Grand Canyon, Utah, and Arizona!
For geological musings read The Goat's geology blog.
Follow us on Facebookand Instagram
Explore Further, Be Wild, See Through Time — Blue Marble Adventure GeoTourism