What are the 5 National Parks in Utah?
Breathe in, breathe out.  Survey the scene.  Take it all in.  This is the most outrageous scenery anywhere in the world, and you are right in the middle of it.  Utah's Canyon Country is a geological fantasy, and an adventure hikers dream.  In this wild land there are five National Parks, each of them holding distinction as some of the most iconic on the planet.  Zion, Bryce, Capitol Reef, Arches, and Canyonlands National Parks hold some of the most world famous scenery, whimsical geology, and thrilling adventure that people from all over the world flock to, and The Goat is here to give you a first-hand glimpse of what to expect when spelunking Utah's Canyon Country.
Arches National Park, Northeast Utah near Moab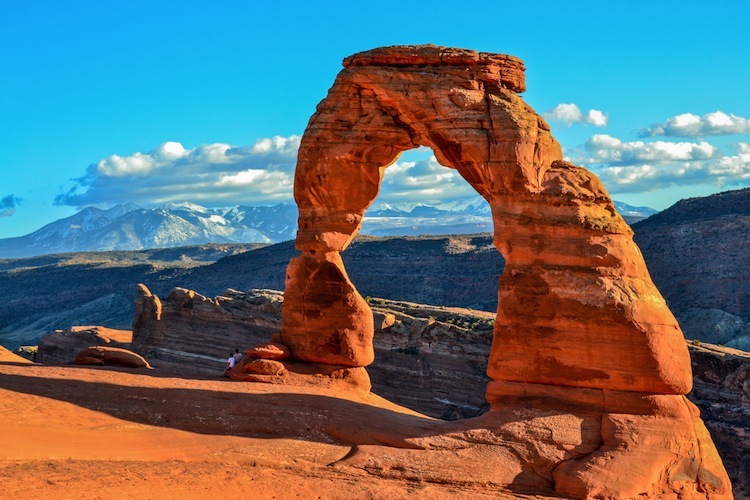 Arches National Park is perhaps the most famous place in the world.  Although that is an incredibly bold statement, there is nothing that represents the Colorado Plateau, the Southwest, and indeed, The United States, quite like an image from Arches.  Delicate Arch, pictured above, is without a doubt the most famous natural arch in the world, and is one of the most famous and photographed destinations in the southwest.  Quick, think of an image that represents America.  We dare you to conjure an image, or series of images, that does not include these iconic features and their namesake National Park.
Established in 1929 as a National Monument by Herbert Hoover then upgraded to a National Park by Richard Nixon in 1969, Arches National Park is home to the largest and densest concentration of sedimentary arches in the world.  The literally thousands of arches are among several geologic features that are unique and specific to Arches National Park, and it is markedly different from its neighbor Canyonlands National Park just to the southwest.  Arches is set atop a massive salt deposit laid down by an ancient sea roughly 300 million years ago, and this is the special ingredient that has allowed for the fabulous features for which it is most famous.
Set in Utah's high desert climate, weather in Arches is punctuated by hot summers, mild winters, and seasonal monsoons that can dump most of its 10 inches of yearly precipitation in just a few events.  The weather is also one of the root causes for the park's unique geology, as the unpredictable nature of precipitation, freezing, lake of competent soils, and other factors contribute daily to shape this wondrous piece of the Colorado Plateau.
Check out our Guided Geology Tours of Arches National Park
Bryce Canyon National Park, Southwest Utah near St. George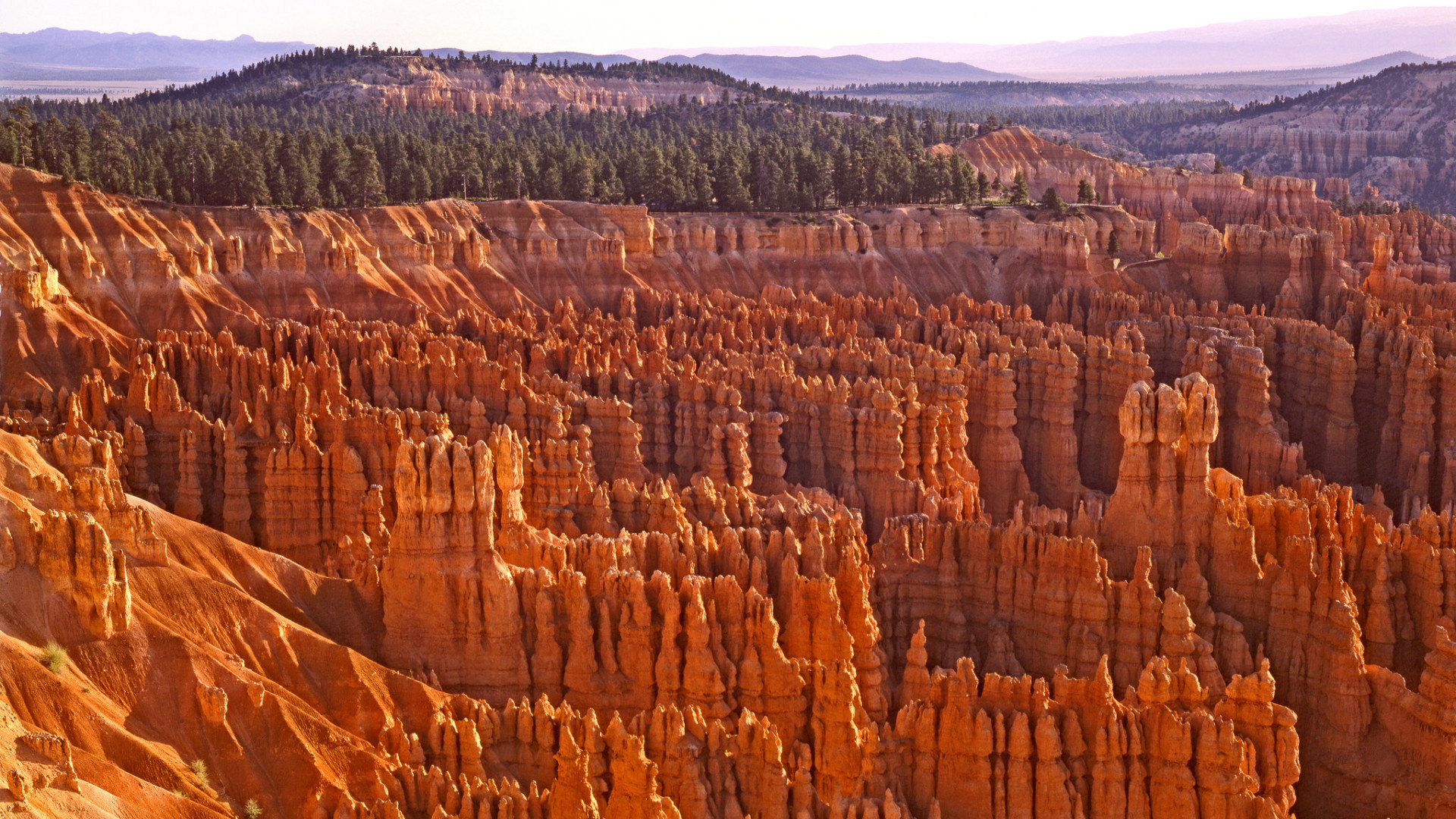 Fun Fact #1 about Bryce Canyon: It's not a canyon (bet you didn't see that coming).  Geologically speaking, Bryce Canyon and Bryce Canyon National Park is a natural amphitheater, carved out by millions of years of the erosion of the soft lacustrine (lake) sediments.  The most famous feature of the park, its "hoodoos", are carved out of the Claron Formation, otherwise known as the beautiful pink and orange sandy limestone that caps the entire park.  Want to make a few new friends?  Hug a hoodoo!
Southwestern Utah, wherein Bryce Canyon National Park is located, is a fundamentally unique and spectacular geologic marvel.  Here you will stand in awe as you see the underpinnings of the meetings of two geologic provinces and the forces that shape them both.  The Colorado Plateau and the Basin and Range provinces come together in this general region, making Utah's High Plateau Country what it is; high plateaus that are former mountains that have been acted upon by millions of years of erosion by wind and water.
Faults to the west and east, remnants of the forces that built the Rocky Mountains, have thrust southwestern Utah skyward creating unique topography that is of nearly ridiculous proportions.  Bryce Canyon sits at an average elevation of over 8,000 feet, which is quite astonishing considering that it is over 1,000 feet higher than its neighbor Zion National Park.  When you think of Bryce Canyon, do you think of elevations higher than average elevations in the Appalachian Mountains?  Most don't, so you're not alone!
Summer is a great time to visit Bryce Canyon National Park, although that is when the park sees most of its nearly 2.5 million yearly visitors.  Winter brings snow and cooler temperatures, though it can lend fantastic solitude to the masterful scenery.  Spring and fall can bring unpredictable weather events including snow and rain, but don't let that stop you, the shoulder seasons are likely the ideal time to visit, as you will avoid winter chill and summer crowds, a rare duel threat.
For more information about Bryce Canyon National Park, give us a call or reserve a spot on one of our fantastic guided Utah geology hiking tours!
Canyonlands National Park, Northeast Utah near Moab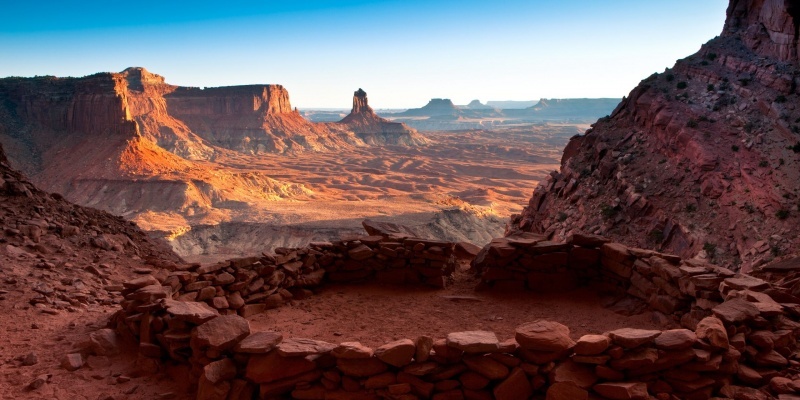 The name of this spectacular National Park says it all; it is truly a land of canyons.  Set aside as a National Monument in 1964, Canyonlands National Park contains some of the most awe-inspiring and remote Colorado Plateau scenery that one can find.  Telling a geologic story nearly 350 million years old, Canyonlands retains all the features that make it a master class in Colorado Plateau geology and all of Utah's Mighty 5 National Parks.  Here you will find numerous sandstone arches, hoodoos, remote slot canyons, towering cliffs and mesas, faults, folds, salt domes, meteorite impacts, and a collection of some of the most important rock layers of the Paradox Basin, a fundamentally important piece of the geologic puzzle on the Colorado Plateau.
More remote and less-visited than its across-the-highway neighbor Arches National Park, Canyonlands is a place where you feel truly connected to nature, the past, present, and even the future; it's a place where one can truly ponder the beauty, grace, complexity and its diametric simplicity of the Colorado Plateau in all of its unabashed glory.  It holds the confluence of perhaps the West's two most important rivers; the Colorado and the Green, each of which, along with their tributaries has intricately carved this vast land of seemingly endless gashes in the Earth, each more spectacular and foreboding than the last.  Time here has painted, carved, woven, and stitched together the very fabric of what makes Utah and the southwest such an alluring place, and Canyonlands National Park is an absolute forget-about-it must for any outdoor adventurer.
Capitol Reef National Park, Central Utah near Boulder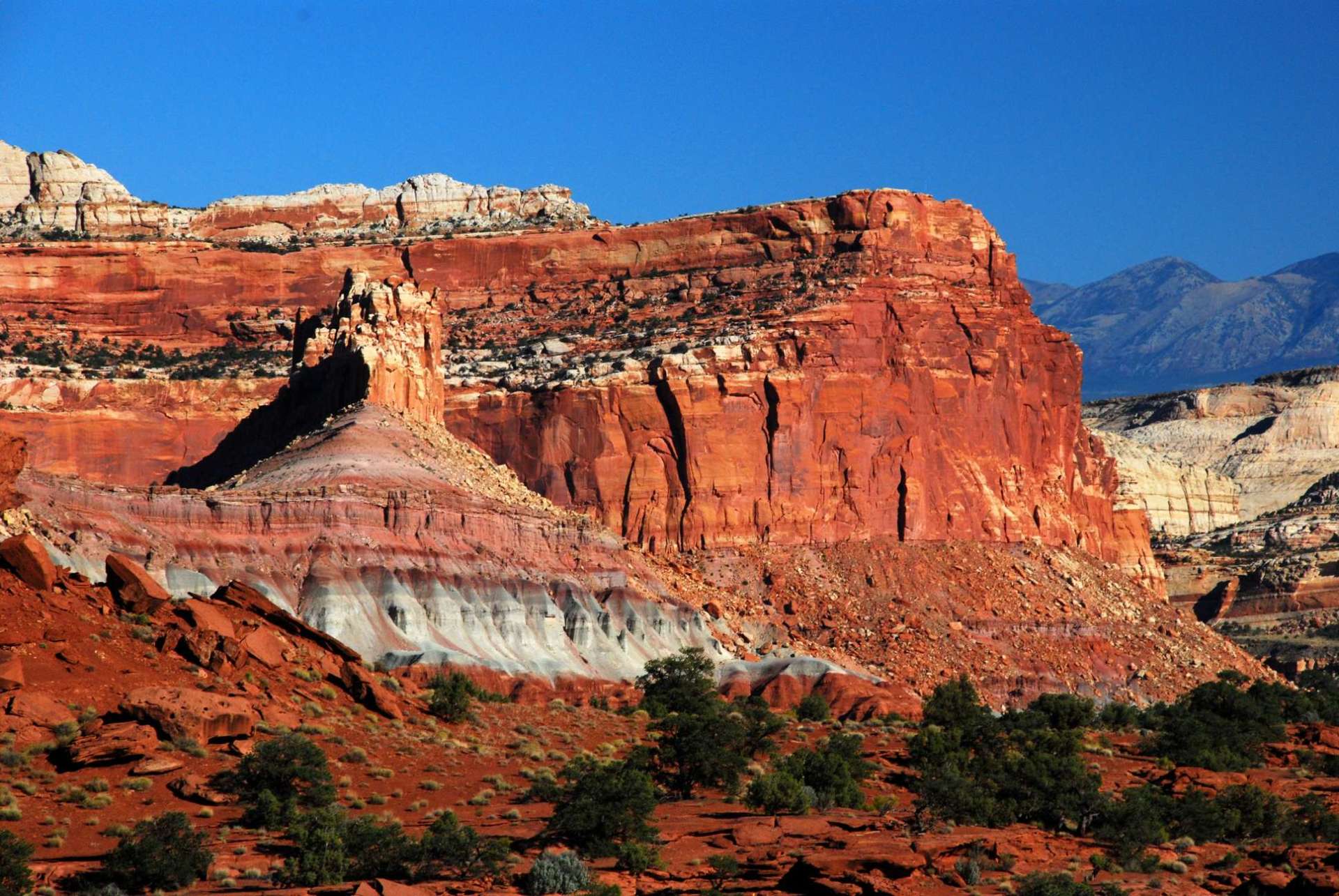 Perhaps the most underrated National Park in the entire system, and certainly in Utah, is Capitol Reef National Park.  Capitol Reef is akin to the forgotten middle child who is class valedictorian, goes to an Ivy League school, becomes a cutting-edge neurosurgeon, and nobody notices.  Anyone who knows this middle child would tell you of its brilliance, its beauty, its allure, and its potential.  However, not enough people have paid attention because all of its other siblings happen to be smart, beautiful, famous, and in-demand as well.
Born into National Park designation in 1970, Capitol Reef National Park is a veritable outdoor geology laboratory.  The wilderness protects a 100-mile long monocline known as The Waterpocket Fold, so names due to the many erosional pockets which house water after rain events.  The structure is a towering reminder of the tectonic forces that built the Rocky Moutains, and is one of the most well-exposed, spectacular, largest, and well-preserved (not eroded) such structures on Earth.  Along its rugged spine are towering cliffs and mesas that take the form of domes that are reminiscent of capitol buildings found in Washington DC among other big cities, giving their moniker to this wonderful place.  The reef portion of the park's name comes from the foreboding cliffs that seem to guard its secrets, as reefs are commonly known as barriers to travel.
Capitol Reef has many advantages that its sibling parks lack; the best of all being solitude and proximity to large metropolitan areas.  Capitol Reef National Park is, quite literally, in the middle of nowhere.  Whereas Zion and Bryce are but 2-3 hours from Las Vegas and large highways, and Arches/Canyonlands are just outside of the world-renowned tourist mecca of Moab, Capitol Reef's largest, nearest city is Boulder; population: 3,500.
No major highways allow easy access, and just getting to Capitol Reef is half the fun, as an approach from any direction takes you into the heart of Utah's Canyon Country.  In addition, it shares its southern border with Grand-Staircase Escalante National Monument, making access from that direction even more adventurous.  Some of the most unspoiled wilderness, star-gazing, hiking, and outdoor recreation opportunities are contained within this utterly spectacular and outstanding slice of outdoor heaven.  Consider yourself warned.
For more information about Capitol Reef National Park, give us a call or reserve a spot on one of our fantastic guided Utah geology hiking tours!
Zion National Park, Southwest Utah near St. George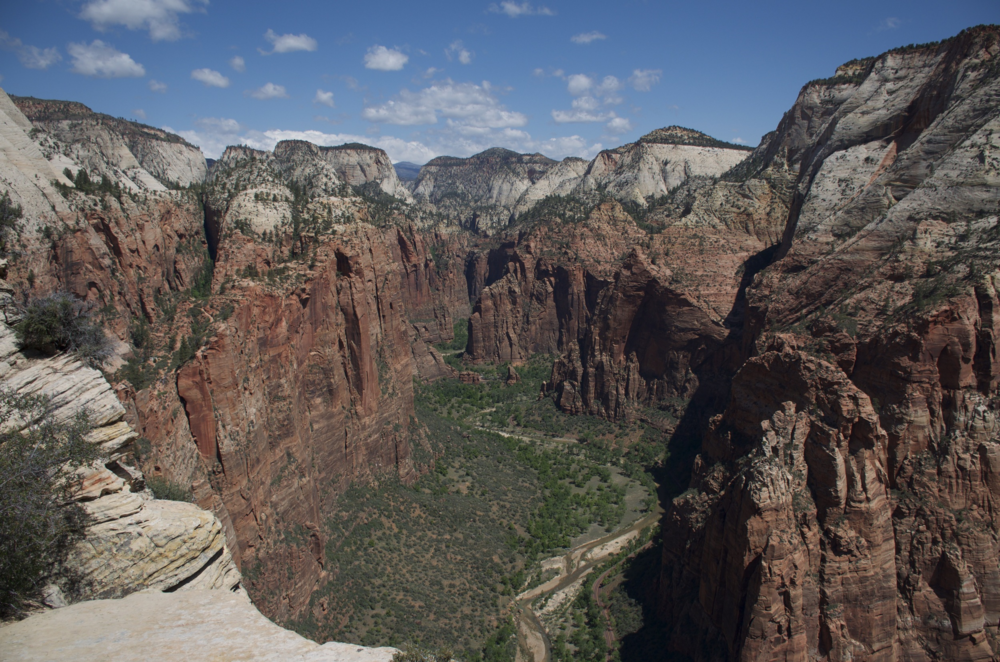 Considered by many to be one of the premier National Parks not just in the United States but in the world, Zion National Park ranks as the 6th-most visited National Park in the system.  Within its borders are contained some of the most iconic and famous trails and landmarks in the southwest, including Angel's Landing, The Subway, and The Watchtower to name a few.  Despite its visitation numbers, the crowds typically flock to the most well-known parts of the park, and there is plenty of solitude to be found in Zion's remote and beautiful backcountry.
Located south of Bryce Canyon in Utah's High Plateau Country, Zion is a wonderful melange of geologic layercake that makes the Colorado Plateau famous.  At almost 7,000 feet average elevation, Zion is a land of deeply-eroded canyons, towering cliffs, and is often referred to as "Yosemite Dressed in Red" by it many adoring fans. The Virgin River, which is ultimately the forming body in Lake Mead east of Las Vegas, is also the primary erosional force at work in Zion National Park, and it along with is tributaries have cut into the sunset-red rocks to sculpt Zion's outrageous and almost daunting scenery.
When to Visit
Summer serves as the park's busy visitation season with consistent temperatures, stable weather, and ample vacation time for families.  However, Zion can be enjoyed year-round, and the hearty outdoor adventure traveler will enjoy the relative solitude offered in the cooler months between October and May.
With so many great adventures to be had, choosing the right one for you can be the hardest part!  Give us a call for information about any of these wonderful places, or reserve a spot on one of our fabulous tours and let our expert geologist/guides take you on an epic journey!
Going Guided
Hiking and exploring Utah and its National Parks, is a special experience.  Although it is possible to see these places yourself, hiring a guide is a great idea.  For instance, guiding services provide logistical support, and plan everything for your best possible trip.  They provide a great safety net on the trail, and are trained in backcountry medicine. Above all, they provide a depth of knowledge of the region that turns a walk into a true adventure.
Blue Marble Adventure GeoTourism provides all of the support you need, and pairs that with expert geologist/guides.  Our backcountry meals use fresh ingredients, and are planned by a professional chef.  Furthermore, we provide top-of-the-line gear and passion for the places we explore.  In conclusion, you can visit National Parks, but going with a guide can create and even more memorable experience.  Don't be shy, and call us!
Read our blog!
For adventure hiking vacations in a geologic time machine, see our epic tours in Grand Canyon, Utah, and Arizona!
For geological musings read The Goat's geology blog.
Follow us on Facebookand Instagram
Explore Further, Be Wild, See Through Time — Blue Marble Adventure GeoTourism